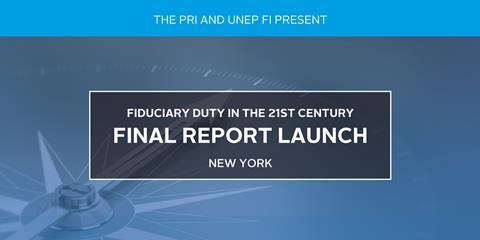 Date: Monday, October 21, 2019
Time: 3pm - 5pm
Location: Rockefeller Capital Management, 45 Rockefeller Plaza, 5th floor, New York City, NY

The PRI and UNEP FI will host a roundtable discussion for the US final report launch for the Fiduciary Duty in the 21st Century programme on Monday, October 21.
The Fiduciary Duty in the 21st Century programme was launched in 2016 to end the debate on whether fiduciary duty is a legitimate barrier to the integration of ESG issues in investment practice and decision-making. Over the past four years, the programme has produced extensive evidence on the subject and has advocated for global policy reform to clarify fiduciaries' duties to their beneficiaries.
Most investors and policy makers have accepted our central conclusion, that failure to consider long-term investment value drivers, which include ESG issues, in investment practice is a failure of fiduciary duty. Progress has taken hold in most markets - including the EU, UK, Canada, and China – with the exception to this trend in the US.
If you have any questions, please contact events@unpri.org.
Venue
Rockefeller Capital Management, 45 Rockefeller Plaza, 5th floor, New York City, NY