On the occasion of Germany's Presidency of the European Council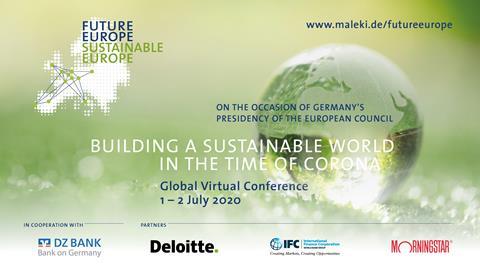 Date and Time:
1 - 2 July 2020 | 09:00 - 17:00 CET

The PRI are pleased to support the upcoming virtual conference, Future Europe - Sustainable Europe.
Join us on day two to hear from PRI's Chief Responsible Investment Officer, Nathan Fabian, who will give a keynote speech on the EU Taxonomy – The metrical system of the 21st century. Click here to view the full agenda.
The Coronavirus Crisis dominates our life, changes communication and poses still unsolved threats to health, welfare and the economy. At the same time, the Climate Crisis continues to challenge the future of our planet and is calling for feasible solutions.
A look back: In the run-up to the UN Climate Conference COP25 in Madrid, the European Parliament had proclaimed the climate emergency for Europe. The Commission is to ensure that all new proposals are consistent with the goal of limiting global warming to 1.5˚C. Member States are invited to step up their climate change efforts. The EU should cut CO2 emissions by 55% by 2050, so that Europe will be carbon neutral by 2050.
The Coronavirus has changed the European context dramatically and has affected all industries. This virtual conference will address the topic of rebuilding a sustainable world after the Coronavirus crisis, to find valuable solutions towards going hand in hand with the changing global context.
Please note this virtual conference will be held in English.