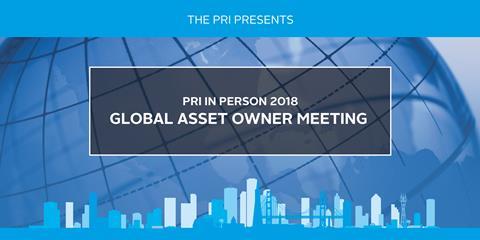 Date: Wednesday 12 September 2018

Time: 08.00 – 10.30am

Location: San Francisco Marriott Marquis, 780 Mission St, San Francisco, CA 94103, USA
Our asset owner signatories have told us that the opportunity to share knowledge and network with their peers from around the world is one of the most valuable aspects of PRI in Person. We are therefore delighted to invite asset owners who are attending the 2018 annual conference to a Global Asset Owner Meeting from 08:00-10:30 on 12 September.
Open to all asset owner delegates, this extended, closed doors meeting will provide an opportunity to:
Find out more about the outcomes of the PRI's recent asset owner consultation, and how we plan to support asset owner signatories in future.
Discuss a topical issue of your choice – such as TCFD scenario analysis, the SDGs, or monitoring of external managers – with an international group of asset owner delegates
Kick off the conference by meeting other asset owners informally over a light buffet breakfast
Topic choices for discussion include:
Measuring and monitoring ESG integration by external managers
Understanding and implementing the TCFD recommendations on scenario analysis
Integrating ESG into fixed income investments
Assessing board composition and board diversity in portfolio companies
Identifying and utilising sources of reliable, comparable ESG data
What is the investment case for the Sustainable Development Goals?
Integrating the SDGs into plan management
Ensuring a socially just transition to a low-carbon economy
Please contact events@unpri.org if you have any questions about the Global Asset Owner Meeting or to request an invitation.

Please note that this event is only open to asset owners.