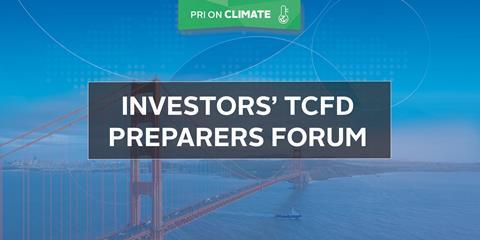 Date: Tuesday 11th September 2018
Time: 8:30am - 1:00pm
Location: Four Seasons Hotel, 757 Market Street, San Francisco, United States
It has been over a year since the recommendations from the Taskforce for Climate-related Financial Disclosures (TCFD) were published. Investors have traditionally been the users of information, yet the TCFD now asks that they prepare and disclose climate-related risks and opportunities in their portfolios.
How have investors responded to TCFD?
One measure of this has been the response to the PRI climate risk indicators. These voluntary indicators were introduced in January and saw responses from 480 investors representing $42 trillion in assets under management.
There are a number of other important questions facing investors:
What have been the key takeaways from this and the initial TCFD reporting over the past 12 months?
How should investors tackle climate scenarios?
What are the key outstanding challenges for the year ahead?
The PRI, in partnership with AXA Investment Managers, is pleased to invite investors to a PRI in Person side event to take stock and address, in detail, these questions with a particular focus on:
Guidance for developing a multi-year strategy to adopt TCFD
Investor case studies from the past year
Updated analysis from the PRI climate risk indicators
A view from regulators in Europe, North America & Asia
Demonstration of climate scenario tools and a group breakout session
We look forward to welcoming attendees to this event in San Francisco!
Please note, places for this side event will be limited and priority will be given to asset owner and asset manager siganatories. We recommend registering for the event early to avoid any disappointment.
For any questions regarding this event, please contact Edward Baker, Senior Policy Advisor - Climate and Energy Tranision at the PRI.
The PRI would like to thank AXA Investment Managers for sponsoring this event.