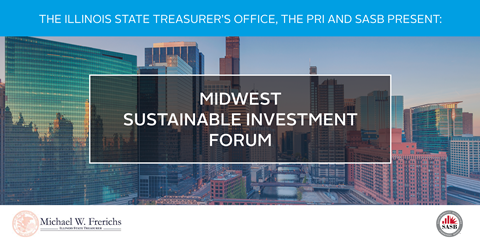 Date: Monday, December 10th, 2018

Time: 2pm – 4:30pm

Location: Northern Trust Asset Management, The Assembly Room, 50 South LaSalle St, Chicago, IL USA 60603
The forum will bring together asset owners from the Midwest to discuss one of the most prominent topics on the investment agenda today: sustainable investment and environmental, social, and governance (ESG) data.
In the last few years, sustainable investment has evolved from a conversation about negative screening, "sin stocks," and aligning portfolios with values, to integration of material ESG information into the mosaic, best-in-class corporate leaders, and leveraging sustainability to maximize risk-adjusted returns. The session will feature a panel of leaders from pension funds and other asset owners who see the financial value of ESG integration as well as break-out sessions to encourage discussion of the topic among attendees.
Attendees will have the chance to:
Hear their peers' views on incorporating ESG data for more informed investment management
Learn more about the PRI and SASB, two investor-focused non-profit organizations supporting asset owners and asset managers
Engage with attendees and speakers during a roundtable and Q&A discussion
There is no fee to attend this event and light refreshments will be provided. This event is open to asset owners only.
Please register below to ensure your spot. For any questions, please contact Saumya Mehrotra at saumya.mehrotra@unpri.org.
Agenda
2.00pm

Registration and networking

2.20pm

Welcome remarks from the host- Nothern Trust Asset Management

2.25pm

Welcome remarks from Illinois State Treasurer Michael J. Frerichs

2.40pm

Overview of the Illinois State Treasurer's Sustainable Investing Strategy by Max Dulberger, Director of Corporate Engagement and Investment Operations, Illinois State Treasury

2.55pm

Panel Discussion: The What, Why, and How of Sustainable Investing

Sustainable investing can be understood as the incorporation of material non-financial factors into the investment decision-making process in order to reduce portfolio volatility and enhance long-term risk-adjusted returns.

The panel discussion will feature four asset owners at different stages of implementing sustainable investing strategies describing how they arrived at the decision to pursue sustainable investing, what their goals are, what strategies they are pursuing, and what challenges they have encountered.

Panelists:

Rodrigo Garcia, Deputy Treasurer & Chief Investment Officer, Illinois State Treasury
Anna Totdahl, Investment Officer, ESG & Sustainability, Oregon State Treasury
Juan Lois, Manager, Sustainable Investment Strategies at Wespath Investment Management
Dan Nielsen, Managing Director, Great Lakes Advisors (Moderator)
Asset Owner, TBD

Our speakers will cover the following topics:

Provide a clear definition of sustainable investing that differentiates it from values-based exclusionary screening
Discuss why sustainable investing is important and in what ways it benefits investors and beneficiaries
Explain how sustainable investing is consistent with an investor's fiduciary duty
Present examples of how sustainable investing can be implemented

3.40pm

Roundtable discussion with the audience Facilitated by Chris Fowle, Head of Americas, PRI

4.05pm

Overview of the PRI and SASB by Carol Jeppesen, Senior US Network Manager, PRI and Nicolai Lundy, Director of Product and Partnerships, SASB

4.20pm

Closing remarks

4.25pm

Coffee and networking
The PRI would like to thank Northern Trust for hosting this event.

Venue
Northern Trust Asset Management, The Assembly Room, 50 South LaSalle St, Chicago, IL USA 60603
Organiser
The Illinois State Treasurer's Office, the PRI and SASB
Rodrigo Garcia, Deputy Treasurer & Chief Investment Officer, Illinois State Treasury 

Anna Totdahl, Investment Officer, ESG & Sustainability, Oregon State Treasury 

Juan Lois, Manager, Sustainable Investment Strategies at Wespath Investment Management 

Dan Nielsen, Managing Director, Great Lakes Advisors (Moderator) 

Asset Owner, TBD