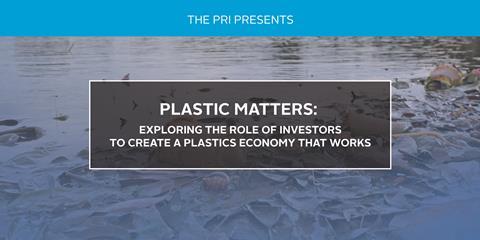 Date: 07 June 2018

Time: 08:30 - 12:00

Location: UBS Asset Management, 5 Broadgate, EC2M 2QS, London
Plastic is a durable, light-weight and strong material, which is used for everyday products and packaging. Despite clear benefits of using plastic, increasing attention is being paid to the impact of plastic waste on our environment. At present, only 14% of plastic waste is collected for recycling globally, and there is a growing sense of the need to develop a circular economy for plastics.
All companies that use plastic within their business (whether it is part of their product or packaging) are exposed to regulatory and reputational risks.
PRI is organising an event for investors in London to explore:
the challenges, risks and opportunities associated with plastic
how companies are addressing plastic use in their direct operations, supply chains, products and packaging
how companies are contributing to the circular economy and providing solutions to the plastic problem
how investors could measure companies' management of plastic
If you have any questions, please contact events@unpri.org.
Venue
UBS Asset Management, 5 Broadgate, EC2M 2QS, London