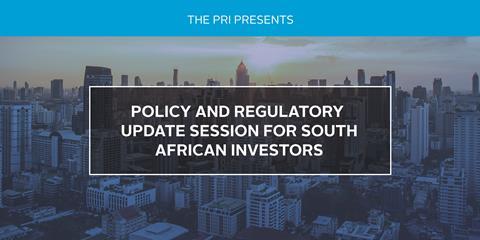 Date: Friday, 28 February 2020
Time: 8:00am – 12:00pm
Location: Bowmans, 11 Alice Ln, Sandhurst, Sandton, Gauteng, South Africa
PRI will be hosting a Policy and Regulatory Update Session for Investors in Johannesburg on Friday 28 February. The event will include presentations from PRI Director of Policy and Research, Will Martindale, as well as from the FSCA, National Treasury, JSE and Bowmans. It is a great platform to get up to speed on the latest policy and regulatory developments both locally and globally – including an update on PRI's work on The Inevitable Policy Response.
Places are limited, so please be sure to register below.
If you are unable to attend this event in-person but you are still interested in hearing the sessions, Click here to virtually attend the event.
08.00 – 09.00: Arrival and Registration
09.00 – 12.00: Session Content
Agenda*
08:00
Arrival and Registration
09:00
Welcome and Housekeeping

David Geral, Head of Banking and Financial Services Regulatory, Bowmans

09:05
Background and Introduction

Nicole Martens, Head of Africa & Middle East, PRI
09:10
IRFA's 2020 Agenda
A word from IRFA on the organisation's agenda for Africa for 2020

Enos S. Ngutshane, President, IRFA
09:20
JSE 2020 Update
An update from the JSE on their plans for 2020 with respect to ESG integration and Responsible Investment

Shameela Soobramoney, Senior Manager: Group Strategy and Sustainability, JSE
09:30
The Inevitable Policy Response
Global trends in policy and regulation with respect to ESG Integration and Responsible Investment

Will Martindale, Director of Policy and Research, PRI
10:15
IFC Update
An update from the IFC on local policy and regulatory developments and the way forward for South Africa

Louise Gardiner, Africa & Green Bonds Coordinator, Sustainable Banking Network, IFC
10:30
Bowmans Update: Acting in Concert
An update from Bowmans on Acting in Concert in the context of ESG

David Geral, Head of Banking and Financial Services Regulatory, Bowmans
10:45
PRI Update: Policy and Regulation
An update from the PRI on flagship policy and regulation projects globally, including the EU Taxonomy and the Legal Framework for Impact

Will Martindale, Director of Policy and Research, PRI
11:15
Facilitated Q&A / Discussion

Facilitated by: Nicole Martens, Head of Africa & Middle East, PRI
11:50
Closing Remarks

David Geral, Head of Banking and Financial Services Regulatory, Bowmans
*Agenda subject to change
Venue
Bowmans, 11 Alice Ln, Sandhurst, Sandton, Gauteng, South Africa