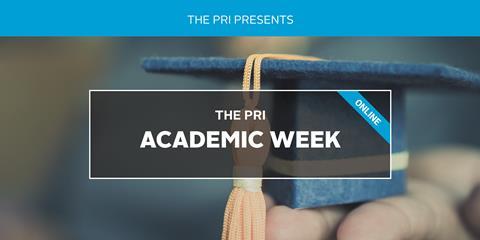 Date: 5-9 October 2020
Venue: Online
We are excited to announce the launch of the PRI Academic Week, a 5-day virtual event taking place between 5-9 October. This free-to-attend event will share the latest ESG research moderated by members of the PRI Academic Network.
Please find the draft agenda below. All papers will be discussed by both an academic and a practitioner.
Agenda
Overview
Date & Time
Themes & Papers

Monday 5 October
14:00-16:30 GMT+1

COVID and Grand Challenges

Paper 1: Resiliency of Environmental and Social Stocks: An analysis of the Exogenous Covid-19 Market Crash 

Paper 2: The Role of ESG Performance during Times of Financial Crisis Evidence from Covid-19 in China

Paper 3: What does not kill you, makes you stronger: Striving for deliberative governance at the United Nations supported Principles for Responsible Investment

Tuesday 6 October
14:00-16:30 GMT+1

Responsible Investors

Paper 4: Responsible Institutional Investing Around the World

Paper 5: The Asymmetry in Responsible Investing Preferences

Paper 6: The dynamics of imitation and interorganizational collective attention to the Sustainable Development Goals

Wednesday 7 October
14:00-16:30 GMT+1

Shareholder Engagement & Environmental Politics

Paper 7: Obstacles to Sustainable Energy Transitions in the US States: Insights from the Citizens United Ruling

Paper 8: Environmental Externalities of Activism

Paper 9: Does Private Equity Ownership Make Firms Cleaner? The Role Of Environmental Liability Risks

Thursday 8 October
11:00-13:30 GMT+1

Climate Finance

Paper 10: Socially Responsible Hedge Funds

Paper 11: Corporate Finance and Firm Pollution 

Paper 12: Environmental Impact Investing

Friday 9 October
14:00-16:30 GMT+1

Corporate Governance

Paper 13: Renewable Governance: Good for the Environment?

Paper 14: Enhancing Profits and Reducing Losses by Managing Material Environmental, Social and Governance (ESG) Factors

Paper 15: Equity Market Reaction to Pay Dispersion and Shareholders' Prosocial Preferences