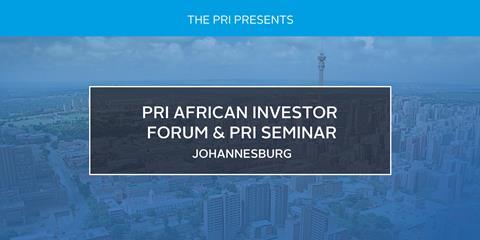 Date: 28 October 2019
Time: 09h00 – 19h00
Venue: JSE, Sandton, Johannesburg
Start the day by joining fellow signatories for the launch and first official meeting of the PRI African Investor Forum, including an introduction to the operational aspects of the Forum, as well as a discussion to initiate the first local project.
In the afternoon, signatories are invited to a PRI Seminar which brings technical experts from our HQ to discuss the latest developments with respect to critical E, S and G issues for local investors. Hear more about PRI's work with respect to the Climate Emergency, and the upcoming mandatory reporting requirements related to TCFD. Engage in discussion with our in-house experts as well as local regulators and policymakers on the opportunities and challenges presented by the local environment in terms of active ownership. Critically, share your insights in a facilitated workshop on the role of investors with respect to the issues of Income Inequality and the Just Transition, ensuring that the views and experiences of African investors are included in the discussions at COP25.
To round off a day of value adding discussion, join signatories and other stakeholders from the investment community at a networking and cocktail event, which closes out the PRI Seminar and kicks off the SDG Investment Forum
If you have any questions, please contact Nicole.Martens@unpri.org.
Agenda to follow.
Venue
JSE, Sandton, Johannesburg