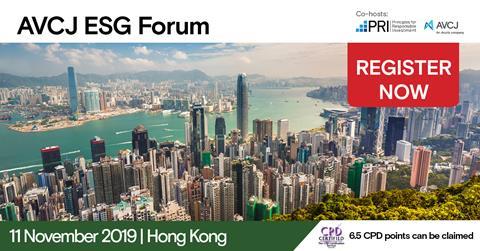 Date: Monday, 11 November 2019
Time: 08:15 – 17:00
Location: Four Seasons Hotel, Hong Kong
Who is eligible to attend? Private equity investors, managers and service providers

The fifth annual ESG Forum, co-hosted by the PRI and AVCJ in Hong Kong, continues its focus on ESG integration practices and challenges in Asian private equity – and what opportunities there are in the region for GPs with a robust and operational approach to responsible investment. Join us for a day of networking, best-practice sharing and debate. The ESG Forum takes place before the 32nd annual AVCJ Hong Kong Forum, 12-14 November.
Topics include:
Developing an ESG framework from start to finish
The importance of good governance in private equity
Case study: successfully implementing a climate risk strategy
LPs' views on responsible investing in Asia
Please note that PRI signatories receive a discounted rate for the conference, and qualified LPs have complimentary attendance. For more information view the booking page on the conference website below.
The event is organised by AVCJ and co-hosted by the PRI:

Venue
Four Seasons Hotel, Hong Kong, 8 Finance Street, Central, Hong Kong