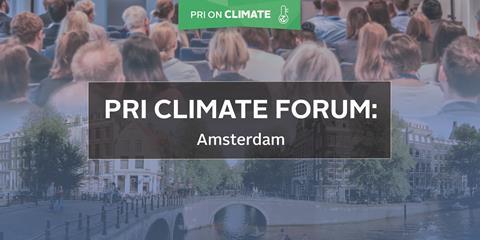 PRI signatories identify climate change as the most significant long term ESG trend to affect their portfolios.
Date: 22 November 2018
Time: 09:00 - 12:45 (registration opens 8:30)
Location: ABP, Symphony, Gustav Mahlerplein 3, Amsterdam
The PRI Climate Forum: Amsterdam is part of a popular new global series of climate events, and will focus on key climate topics and practical advice for investors in the Benelux region.
This half-day free-to-attend event will feature the latest content from the PRI on topics including: climate scenario analysis, FSB Taskforce on Climate-related Financial Disclosures (TCFD), investing in a just transition, and Climate Action 100+
If you have any questions about the event, please contact climate@unpri.org
Please note that the PRI may limit the number of attendees per organisation. Registered attendees will be contacted directly regarding any limits to participation.

Agenda:
Time:

Session:

8:30 - 9:00

Registration & coffee

9:00 - 9:10

Welcome from PRI and ABP

Don Gerritsen, Head of Benelux, PRI

Xander den Uyl, Trustee at ABP and PRI board member.

9:10 – 9:20

PRI update

Sagarika Chatterjee, Director of Climate Change, PRI

9:20 – 9:40

Investing in the low-carbon transition

PRI will present findings of a new publication, How to Invest in the Low-Carbon Economy: an Institutional Investor's Guide, followed by a discussion on how investors are evolving their investment strategy and products to capture the opportunities in the transition to a low carbon economy and to mitigate risks.

Urs Bitterling, Senior Manager Climate Integration, Allianz

Claudia Kruse, Managing Director Global Responsible Investment & Governance, APG

Moderator: Sagarika Chatterjee, Director of Climate Change, PRI

9:40 – 10:40

Assessing climate-related risks and opportunities

Investors and financial supervisors will need be better information about the climate-related risk to navigate their way through the energy transition. This session will feature an update from the DNB on their programme of climate change work, analysis from PRI on how investors are responding to the TCFD and demonstrations of climate scenario tools from 2⁰ Investing Initiative and Carbone 4.

Matthieu Maurin, Managing Director, Carbon4 Finance

Simon Messenger, Head of Corporate and Investor Engagement and Director for France and the UK, 2º Investing Initiative

Julia van Huizen, Policy Advisor Climate Risk and Sustainable Finance, De Nederlandsche Bank

Moderator: Edward Baker, Senior Policy Advisor – Climate and Energy Transition, PRI

10:40 – 11:00

Networking break

11:00 – 12:00

Active Ownership and the Climate Action 100+

Engagement and proxy voting are key elements of an investor's toolbox for addressing climate risks. This session will provide an update on key initiatives led by PRI and its partners, including the Climate Action 100+and a TCFD Investor/ Investee Case Study. Hear examples from both investors and companies on how they are taking action on climate change through engagement dialogue, including on the adoption and implementation of the TCFD recommendations.

Sunniva Bratt Slette, Sustainability Analyst, Storebrand Asset Management

Cristina Cedillo Torres, Engagement Specialist, Governance and Active Ownership, Robeco

Marta Nevøy Bjørkestrand, Leader communications corporate sustainability, Equinor

Moderator: Ben Pincombe, Manager – Environmental Issues, PRI

12:00 – 12:10

Incorporating methane into TCFD disclosure

The PRI will present a new joint report written alongside Ceres and the Environmental Defense Fund (EDF), Setting the Bar, which acts as a tool for both investors and oil and gas companies to bring methane reporting in line with the TCFD framework.

Sean Allen, Manager - Environmental Issues, PRI

12:10 – 12:40

Investing in a just transition

The session will outline a new PRI project, co-designed by the Grantham Research Institute at the London School of Economics and the Initiative for Responsible Investment at the Harvard Kennedy School, which looks at the just transition from an investor perspective and highlights action plans for tackling the issues.

Achieving a 'just transition' is part of the Paris Agreement, and will help accelerate climate action in ways that deliver the Sustainable Development Goals.

Investors are increasingly committed to the low-carbon transition, but much of the focus has been on getting investors to think about the environmental dimension. There is a need to fully incorporate a robust social dimension in terms of the positive and negative implications of the climate transition for workers and communities.

Bettina Reinboth, Head of Social Issues, PRI

12:40 – 12:45

Closing remarks from the PRI

Don Gerritsen, Head of Benelux, PRI

12:45 – 14:00

Private discussion with asset owners: new guidance on TCFD and thermal coal phase-out (includes lunch).

Sagarika Chatterjee, Director of Climate Change, PRI

Laurence Watson, Data Analyst, Carbon Tracker
The PRI would like to thank ABP for hosting this event.