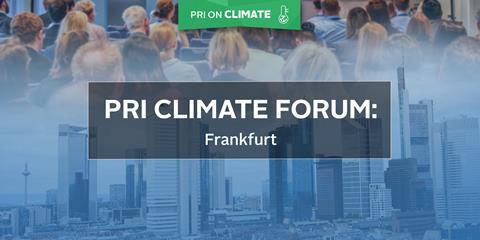 PRI signatories identify climate change as the most significant long term ESG trend to affect their portfolios.
Date: 4 December 2018
Time: 10:00 - 14:40 (registration opens 9:30)
Host: DWS, Raum "Forum 2", Taunusanlage 12, 60325 Frankfurt am Main, Germany
The PRI Climate Forum: Frankfurt is part of a popular new global series of climate events, and will focus on key climate topics and practical advice for investors in Germany.
This half-day free-to-attend event will feature the latest content from the PRI on topics including: how to invest in the low-carbon transition, climate scenario analysis, FSB Taskforce on Climate-related Financial Disclosures (TCFD), investing in a just transition, and Climate Action 100+
If you have any questions about the event, please contact climate@unpri.org
Please note that the PRI may limit the number of attendees per organisation. Registered attendees will be contacted directly regarding any limits to participation.
Agenda:
10:00 - 10:30

Registration & networking

10:35

Welcome from PRI and DWS

10:45

PRI Update

11:00


How to invest in the low-carbon transition

PRI will present findings of a new publication, How to Invest in the Low-Carbon Economy: an Institutional Investor's Guide, followed by a discussion on how investors are evolving their investment strategy and products to capture the opportunities in the transition to a low carbon economy and to mitigate risks.

11:40

TCFD & Scenario analysis

With over 500 organisations now official supporters of the Task Force on Climate-related Financial Disclosures (TCFD), more and more investors are looking to align their disclosure practices with the TCFD recommendations.

This session will feature discussion with investors on how to get started on TCFD, including: examples of establishing internal process, assigning responsibility, publishing a climate policy, drawing up a implementation & monitoring plan as well as reporting. In addition, the session will also feature a demonstration of a free-to-use online climate scenario tool.

12:30 - 13:15

Networking lunch

13:15

Active Ownership – engagement on climate related issues.

Engagement and proxy voting are key elements of an investor's toolbox for addressing climate risks. This session will update on key initiatives led by PRI and its partners, including the Climate Action 100+. Investors will be given an opportunity to discuss these initiatives and understand how they can get further involved.

14:05

Incorporating methane into TCFD disclosure

The PRI will present a new joint report written alongside Ceres and the Environmental Defense Fund (EDF), Setting the Bar, which acts as a tool for both investors and oil and gas companies to bring methane reporting in line with the TCFD framework.

14:15

Investing in a just transition

Achieving a 'just transition' is part of the Paris Agreement, and will help accelerate climate action in ways that deliver the Sustainable Development Goals.

The session will outline a new PRI project, co-designed by the Grantham Research Institute at the London School of Economics and the Initiative for Responsible Investment at the Harvard Kennedy School, which looks at the just transition from an investor perspective and highlights action plans for tackling the issues.

Investors are increasingly committed to the low-carbon transition, but much of the focus has been on getting investors to think about the environmental dimension. There is a need to fully incorporate a robust social dimension in terms of the positive and negative implications of the climate transition for workers and communities.

14:45 - 14:50

Closing remarks from the PRI
The PRI would like to thank DWS for hosting this event.