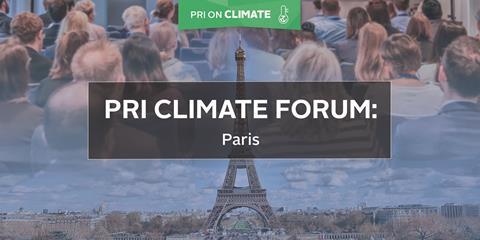 Le changement climatique est perçu par les signataires des PRI comme la tendance ESG de long-terme qui aura l'impact le plus important sur leurs portefeuilles.
Le Forum climat que les PRI organisent à Paris le 10 juillet est un évènement d'une journée dédié aux principaux enjeux climatiques pour les investisseurs.
L'évènement sera l'occasion de présenter un outil d'analyse des scénarios climatiques et des exemples d'investissements en faveur de la transition bas carbone. Il permettra également de partager des informations complémentaires sur l'initiative d'engagement collaboratif Climate Action 100+, ainsi que d'échanger sur les enjeux sociaux des changements climatiques.
Date: 10 juillet 2018
Heure : 9 :15 – 17 :00 (pour les investisseurs institutionnels l'accueil se tiendra à 8 :30)
Lieu : Auditorium AG2R La Mondiale (106 Bd Haussmann - 75008 Paris).
Les sessions se dérouleront en français ou en anglais en fonction des intervenants.
Pour toute question, n'hésitez pas à contacter climat@unpri.org.

PRI signatories identify climate change as the most significant long term ESG trend to affect their portfolios.
The PRI Climate Forum: Paris is part of a new global series of climate events, which will focus on key climate topics and practical advice for investors.
Highlights of this full-day event include: a new climate scenario analysis tool, new guidance on investing in the low carbon transition, a closed session for asset owners on the latest guidance on TCFD, the Climate Action 100+, and a new project on the Just Transition.
Date: 10 July 2018
Time: 9:20 - 17:00 (Asset Owner Registration opens at 8:30)
Location: AG2R La Mondiale, 106 Bd Haussmann – 75008 Paris, France
Please note: whilst the PRI will endevour to run as much as possible of the event in French, a number of the presentations and sessions will be run in English. PRI staff will be able to help facilitate questions to speakers where needed.
If you have any questions about the event, please contact climate@unpri.org
Register Your Interest To Attend
The PRI would like to thank AG2R for hosting this event.