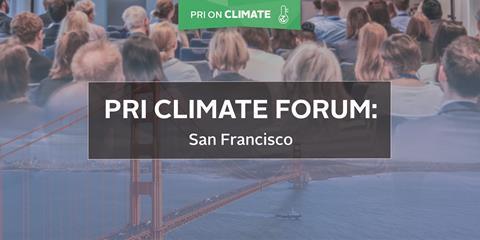 PRI signatories identify climate change as the most significant long term ESG trend to affect their portfolios.
The PRI Climate Forum: San Francisco is part of a new global series of climate events which will focus on key climate topics and practical advice for investors in the US.
This full-day event will feature brand-new content including Climate Scenario Analysis Tool, new asset owner guide on TCFD, a guide to investing in the low carbon transition, and more.
Date: 25 June 2018
Time: 9:20 - 17:00 (Asset Owner registration opens at 8:30)
Location: K&L Gates LLP, 4 Embarcadero Center, Suite 1200 (12th floor), San Francisco, CA 94111
If you have any questions about the event, please contact climate@unpri.org
Please note that the PRI may limit the number of attendees per organisation. Registered attendees will be contacted directly regarding any limits to participation.
Agenda:
Time:

Session:

Speakers

8:30 - 8:40

Asset Owner Registration

8:40 - 9:40

Asset Owner Roundtable: New Guidance from the PRI

This private session will include discussion on two emerging topics; how asset owners can implement TCFD and how asset owners can approach coal power phase-out. This will include discussion of how asset owners can engage managers on climate change. PRI will facilitate this discussion with an initial presentation of key findings from two new PRI publications; PRI Guide for Asset Owners to Implementing the TCFD and PRI Coal Power Phase-Out.

Edward Baker, Senior Policy Advisor - Climate and Energy Transition, PRI

9:20 - 9:40

General Registration & Coffee

9:40 - 9:50

Welcome from PRI & Host

9:50 - 10:10

Opening Keynote

Dave Jones, California Insurance Commissioner

10:15 - 11:15

Investing in the low carbon economy

This session will include a discussion of low carbon investment opportunities available today, and barriers that need to be overcome to scale-up investment. PRI will present findings of a new publication, How to Invest in the Low-Carbon Economy an Institutional Investor's Guide, followed by a discussion with investors and CDP.

Moderator: Sagarika Chatterjee, Head of Climate Policy, PRI

Andrew Collins, Director of ESG, SFERS

Peter Kelly, Vice President, Goldman Sachs Asset Management

Emily Kreps, Head of Investor Initiatives, North America, CDP

Jessica Hans, Investment Officer, Private Equity and Real Assets, University of California Regents

11:15 - 11:30

Break

11:30 - 12:30

Global launch and demonstration of the PACTA 2.0 Online Climate Scenario Analysis Tool

The PRI is delighted to support the global launch of 2⁰ Investing Initiative Paris Agreement Capital Transition Assessment (PACTA) 2.0 free-to-use online tool for assessing exposure to climate transition risks at the portfolio level.

Previous versions has been used by over 200 investors and regulators in Europe and North America. This event will present the new online upgrade, supported by the PRI, which offers new functionality and now includes the ability to analyse portfolios against multiple climate scenarios. For investors such off-the-shelf tools can help to reduce the information barriers to conducting scenario analysis and adopting the TCFD recommendations.

Edward Baker, Senior Policy Advisor, PRI

Aaron Ezroj, Director of the Office of Climate Risk Initiatives, California Department of Insurance

Tricia Jamison, Head of North America, 2 Degrees Investing Initiative

12:30 - 13:15

Networking Lunch

13:15 - 14:00

Active Ownership and the Climate Action 100+

Engagement and proxy voting are key tools in investors' toolbox for addressing climate risks. This session will update on key initiatives led by PRI and its partners, including the Climate Action 100+. Investors will be given an opportunity to discuss these initiatives and understand how they can get further involved.

Moderator: Ben Pincombe, Manager -Environmental Issues, PRI

Craig Rhines, Associate Investment Manager, Global Equity, CalPERS

Allan Pierce, Shareholder Advocate, Trillium Asset Management

Kirsten Spalding, Senior Director, Investor Network, Ceres

Ross Campbell, Director of Responsible Investing, Barrow, Hanley, Mewhinney & Strauss

14:00 - 14:45

Transition risk for oil and gas - the 2018 update of PRI and Carbon Tracker's 2 degrees of separation research

In 2017, the PRI and Carbon Tracker released 2 degrees of separation: transition risk for oil and gas in a low carbon world. This session will provide an update on the research and showcase new functionality within the online toolkit which will be available exclusively to PRI investor signatories.

Henrik Jeppesen, Head of Investor Outreach, Carbon Tracker

Ben Pincombe, Manager, Environmental Issues, PRI

14:45 - 15:00

Break

15:00 - 16:00

Investing in a Just Transition

Achieving a 'just transition' is part of the Paris Agreement, but despite increasing commitment from investors to support the transition to a low-carbon economy, they are yet to fully incorporate the social dimension. A poorly managed transition risks "stranded workers" and "stranded communities" as well as "stranded assets," contributing to rising inequality, economic stagnation and instability.

The session will outline the objectives of Investing in a Just Transition, a new PRI project to improve the ability of investors to integrate social factors into climate strategies, co-designed by the Grantham Research Institute at the London School of Economics and the Initiative for Responsible Investment at the Harvard Kennedy School.

Tamara Herman, Senior Program Officer, Global Unions' Committee on Workers' Capital/SHARE

16:00 – 16:05

Closing remarks from the PRI

16:05 - 17:00

Networking Drinks
The PRI would like to thank K&L Gates for hosting this event.