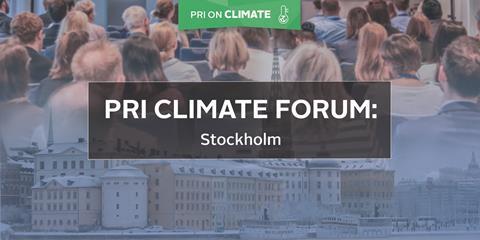 PRI signatories identify climate change as the most significant long term ESG trend to affect their portfolios.
The PRI Climate Forum: Stockholm is part of a new global series of climate events which will focus on key climate topics and practical advice for investors in the Nordic region.
This half-day event will feature brand-new content including guidance for asset owners on the TCFD recommendations, latest advice on investing in the low carbon transition, demonstration of a free-to-use online tool on scenario analysis at portfolio level, and an update on the Climate Action 100+ initiative.
Date: 15 June 2018
Time: 8:30 - 13:30
Location: Hosted by Nordea at Norrksen House, Birger Jarlsgatan 57 C, 113 56 Stockholm, Sweden
If you have any questions about the event, please contact climate@unpri.org
We are running the PRI Climate Forum: Stockholm in conjunction with the workshop "Unveiling the ET Risk Toolbox: Scenarios, Data, and Models for Risk Assessment", organised by the ET Risk project, lead by 2°Investing Initiative. This workshop will take place directly after the networking lunch from 13:40-16:40. The event will feature sessions on: transition scenarios and scenario analysis; asset-level data; and climate-related models on valuation, company-level and credit risk assessment. It will be an excellent follow on from the sessions covered at the PRI Climate Forum.
The PRI would like to thank Nordea for hosting this event.