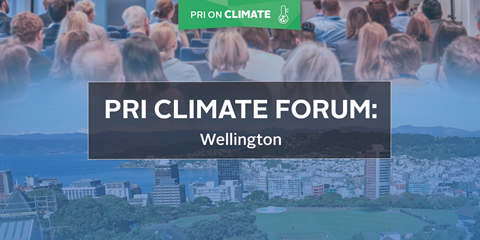 PRI signatories identify climate change as the most significant long term ESG trend to affect their portfolios.
The PRI Climate Forum: Wellington is part of a new global series of climate events which will focus on key climate topics and practical advice for investors in New Zealand.
During the meeting, attendees will hear a summary of the PRI's latest resources and initiatives focused on climate change, on topics including the FSB Taskforce on Climate-related Financial Disclosures (TCFD) and Climate Action 100+. The interactive event will feature presentations from Paul Chandler, Head of Environmental Issues at the PRI along with Emma Herd, CEO of the Investors Group on Climate Change (Australia / New Zealand), who will present an update on IGCC's activities.
Date: 20 July 2018
Time: 11:00am - 12:30pm
Location: AMP Capital, Meridian Building, Level 1, Queens Wharf, Wellington 6011, New Zealand
If you have any questions about the event, please contact climate@unpri.org
Please note that the PRI may limit the number of attendees per organisation. Registered attendees will be contacted directly regarding any limits to participation.
The PRI would like to thank AMP Capital for hosting this event.