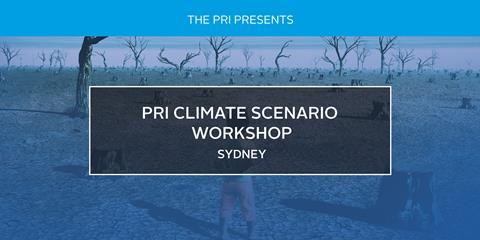 Date: Wednesday 9 October 2019
Time: 9-12am local time
Location: First State Super, Level 21, Clarence Street, Sydney
Who is eligible to attend? Asset owners.
Attendees are encouraged to include an investment team member either from asset allocation or portfolio construction together with the ESG/RI specialist.
The PRI in collaboration with Climate Insights is hosting a practitioner workshop of climate scenario analysis and its role in investment decision-making processes. The goal of the workshop is to strengthen the link between the utilisation of climate change scenario analysis and investment decision-making processes including identifying barriers, opportunities and an illustrative case study of the application of climate scenarios to portfolio decisions.
Topics include:
The governance oversight to support the scenario analysis process
How scenario analysis is being used to impact top down and bottom up analysis
Evaluation of data and service providers
As spaces are limited, registration is necessary in order to secure your place. Please click on the link below to RSVP.
The PRI would like to thank First State Super for hosting this event.
Venue
First State Super, Level 21, Clarence Street, Sydney