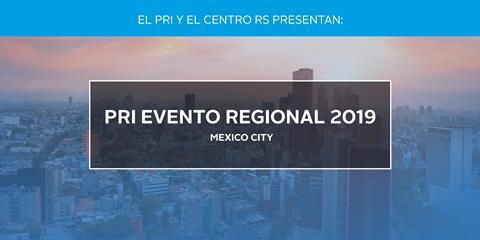 Día: Jueves, 14 Noviembre 2019
Hora: 08:15 – 13:30
Ubicación: Auditorio de la Bolsa Mexicana de Valores - Av. Paseo de la Reforma 255 Cuauhtémoc
Valor: 1.500 pesos mexicanos. Representantes de signatarios PRI pueden asistir sin costo
¿Quién es elegible para asistir? Inversionistas institucionales, Administradores de inversiones, proveedores de servicios y empresas listadas.
El próximo 14 de noviembre, se llevará a cabo el VI Encuentro de Inversión Responsable & Sostenible. "Avanzando en la Agenda de la Inversión Responsable en México y América Latina". Un evento de alto impacto que promueve las inversiones responsables y la forma en la que las empresas impulsan
el valor económico, generando buenas prácticas ambientales, sociales y de gobernanza.
Este evento tiene como ejes temáticos:
Prácticas de integración ASG en Investment Management y Asset Owner.
Integración de prácticas ASG en Inversionistas de América Latina.
Materialidad y ASG.
Agradecemos a nuestro aliado el Centro Internacional de Responsabilidad Social y Sostenibilidad (Centro RS) y a nuestro Network Supporter el Consejo Consultivo de Finanzas Verdes (CCFV) por su apoyo para la organización de este evento.
Como los espacios son limitados, es necesario registrarse para asegurar su lugar. Haga clic en el enlace a continuación para registrar su interés y así ser contactado, en caso que aplique, para proceder con él pago.
El evento es organizado por el Centro RS y PRI:

Agenda
8:30
Bloque 1: Bienvenida
Reconocimiento signatarios PRI México:

Will Martindale, Director of Policy and Research, PRI
José Oriol, Director General, Bolsa Mexicana de Valores
8:45
Bloque 1: Palabras de bienvenida:

Alba Aguilar, New Markets Director, SIF ICAP / Grupo Bolsa Mexicana de Valores
Will Martindale, Director of Policy and Research, PRI
Rafael Del Villar, Director Asesor, Banco de México
9:10
Bloque 1: Palabras patrocinador principal FTSE Russell

Carolyn Eagle, Senior Product Manager for Sustainable Investment, FTSE Russell
9:30
Bloque 2: Mejores prácticas integración ASG signatarios globales PRI
Presentaciones prácticas ASG signatarios globales:

Luis Mejia, Director de Concesiones, Blackrock
Jens Peers, CIO Sustainable Equities & Fixed Income, Mirova
Susana Peñarrubia, Head of ESG Integration-Active/ ESG European Equities Portfolio Manager, DWS
Guido Veul, Client Portfolio Manager Sustainable Equities, NN IP
10:30
Break
10:50
Bloque 3: Conversatorio integración ASG en Inversionistas en LATAM
Panel con Afores México:

Sergio Méndez, CIO, Afore XXI Banorte
Andrés Moreno, CIO, Afore E SURA
Antonio Sibaja, CIO Afore PROFUTURO
Por confirmar, Afore CITIBANAMEX
Modera Eduardo Atehortua, Head LATAM (Ex-Brazil), PRI
11:20
Bloque 3: Panel con signatarios PRI LATAM:

Oscar Ardila, Head of Investor Relations and Responsible Investing, AshmoreAvenida
Ivan Dario Vasquez, Portafolio Manager, Bancolombia
Orlando Zelaya, Analista Senior y Portfolio Manager, Compass Group
Modera Deniz O. Brown, Emerging Markets for Responsible Investing
12:00pm
Bloque 4: Materialidad & ASG
Presentación ALAS 20:

German Heufemann, Managing Partner, Governart
12:20pm
Bloque 4: Presentación GRI:

Andrea Pradilla, Director Hispanic America, GRI
12:40pm
Bloque 4: Panel agencias calificadoras

Carolyn Eagle, Senior Product Manager for Sustainable Investment, FTSE Russell
Manuel Gonzalez, Director LATAM, S&P DJI
Roberto Guerra, Director General, PCR-Verum
Maria Pia Medrano, Director, Corporate Ratings, Fitch
Lazaro Tiant, Manager, Institutional Relations, Sustainalytics
Fanny Tora, Directora Sudamérica, VigeoEiris
Modera Luisa Montes, Ecovalores
1:45pm
Cierre y presentación evento 2020
2:00pm
Almuerzo y networking
Almuerzo con signatarios, aliados del evento e invitados especiales.
Venue
Auditorio de la Bolsa Mexicana de Valores - Av. Paseo de la Reforma 255 Cuauhtémoc