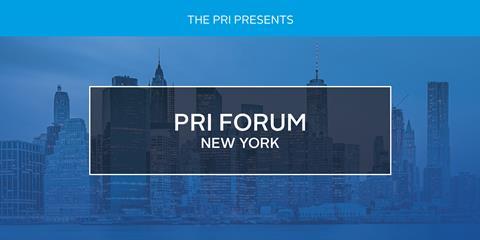 Date: Wednesday July 24, 2019
Time: 9.30am – 5:20pm (registration open from 9am)
Location: DWS, 60 Wall Street, 47th Floor, New York, NY 10005

We are excited to launch the PRI Forums, a series of one-day events exploring the latest responsible investment trends around the world – kicking off in New York in July 2019.
With themes ranging from investor responses to climate change and tackling modern slavery – as well as a focus on investment practices – the inaugural forum will bring together prominent stakeholders and thought leaders in the US responsible investment community.
We'll also be sharing market-specific insights, such as the latest developments in US policy and their implications for the future of responsible investment.
View the latest agenda below.
If you have any questions, please contact events@unpri.org.
Registration for this event has now closed. To add your details to the waitlist, please click on the button below and complete the short form.
Places will be offered to those on the waitlist should we receive any cancellations in the coming weeks. Please note that priority will be given to PRI signatories and organisations who are not represented on the registration list.
The PRI would like to thank DWS for hosting this event.
Draft Agenda*
9.00am
Arrival & registration
9.30am
Welcome from PRI and host

Fiona Reynolds, CEO, PRI
Roelfien Kuijpers, Head of Responsible Investments & Strategic Relationships, DWS
Chris Fowle, Director, Americas, PRI


9.50am
Climate change: how should investors prepare?

The inevitable policy response: act now
Using climate scenarios as a tool for risk assessment
Investor action



Jason Eis, Executive Director, Vivid Economics
Radley Horton, Research Scientist, Center for Climate Systems Research, Columbia University
Joy Williams, Chair, Decarbonization Advisory Panel, New York State Common Retirement Fund
Sagarika Chatterjee, Director of Climate Change, PRI (moderator)


10.50am
The investor role in combating modern slavery

How are companies addressing the risk of modern slavery in corporate supply chains?
What tools can investors use to inform their risk management?
How can the financial sector more broadly address this issue?

Bettina Reinboth, Head of Social Issues, PRI

11.40am
Coffee break
12.00pm
Policy focus: updates and insights

An overview of current US and EU policy-making on responsible investment
What is the PRI's role, and how can investors get involved?

Alyssa Heath, Senior Policy Analyst, PRI
Heather Slavkin Corzo, Senior Policy Advisor, US, PRI

12.45pm
Lunch
1.45pm
The picks and shovels: an overview of the PRI's investment practice work

A snapshot of current and planned work on developing tools and guides across a broad range of asset classes

Toby Belsom, Director of Investment Practices, PRI

2.15pm
ESG in credit risk and ratings

The fundamentals of bond credit risk analysis have not changed, but the focus on ESG factors is getting sharper
This session will explore the progress as well as the challenges of credit practitioners in making ESG factors more transparent and systematic in their analysis.

Jonathan Bailey, Head of ESG Investing, Neuberger Berman Group
Alessia Falsarone, MD, Head of Sustainable Investing DMFI, Pinebridge Investments
Nicole Martin, Senior Director, S&P Global Rating
Shawn Keegan, Portfolio Manager, AllianceBernstein (moderator)

3.00pm
The passive challenge: are ESG and passive investments incompatible?

A workshop session discussing ESG challenges and solutions for asset owners, service providers and asset managers
Questions will focus on data, engagement, reporting and the role of stakeholders

Gregory Elders, Index Research - ESG, JPMorgan
Gerold Koch, Director of Product Development, ESG and Index Investing, DWS
Emily Lawrence, Director, Sustainable Investing, Northern Trust
Marc Lindsay, Senior Strategist, Vanguard
Nathalie Wallace, Global Head, ESG Investment Strategy, State Street Global Advisors

This session will take place under Chatham House rules.
4.00pm
Coffee break
4.20pm
Choosing an asset manager: the role of investment consultants

How can ESG factors be incorporated into service delivery and contracts with investment consultants?
Current market trends, thoughts for the future and how asset owners can build constructive relationships in this area

Daniel Ingram, Responsible Investment Research & Consulting, Wilshire Associates Incorporated
Kristine Pelletier, Partner, NEPC, LLC
Michelle Perry, Director of Operational Due Diligence, Aksia

5.15pm
Closing remarks
5.30pm
Close
*Further details to follow. Agenda subject to change.
Venue
DWS, 60 Wall Street, 47th Floor, New York, NY 10005