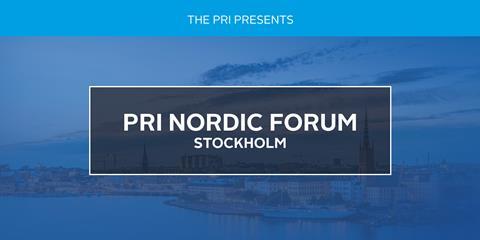 Date: Tuesday, 4 February 2020
Time: 09:30 - 16:45 (Followed by networking drinks)
Location: Skandia, Lindhagensgatan 86, 106 55 Stockholm, Sweden
The PRI Forums, a new series of regional one-day events exploring the latest responsible investment trends and practices from around the world, will be coming to Stockholm on Tuesday, 4th February.
The PRI Nordic Forum will cover a wide spectrum of the PRI's latest work – from SDG alignment, to ESG issues, to investment practices. Designed to inform and to facilitate discussion, the Forum will provide a valuable update on the PRI's work and an opportunity for knowledge-sharing between key stakeholders in the responsible investment community.
Investor action on climate change – identified by PRI's signatories as their highest priority ESG issue – will have a strong focus, with coverage of both TCFD and the Inevitable Policy Response. We'll also be sharing PRI thinking, tools and guides, including new research on ESG integration in fixed income, and the latest updates on European policy.
To register your interest in this event, please click below.
If you have any questions, please contact events@unpri.org.
The PRI would like to thank Skandia for hosting this event.

Agenda*
09:30
Registration
10:00
Welcome from the PRI & Host

Eva Halvarsson, Board Member, PRI & CEO, AP2
Lars-Göran Orrevall, Head of Asset Management, Skandia
10:15
EU Policy Update
This session will cover the latest political and technical EU Taxonomy developments, as well as situating these within the broader global context.

Magnus Billing, CEO, Alecta
Stephanie Maier, Director - Responsible Investment Specialist, HSBC Global Asset Management
Moderated by: Will Martindale, Director of Policy & Research, PRI
11:00
Climate change: the Inevitable Policy Response & TCFD
As teenagers march on parliaments, the pressure for climate-related policy increases from all angles. This session will cover the Inevitable Policy Response initiative and the UN Net Zero Asset Owner Alliance. We'll also discuss TCFD, against which the PRI is moving towards mandatory reporting for signatories.

Heidi Elmér, Head of the Markets Department, Sveriges Riksbank
Hans Forssman, Senior Investment Manager, Infrastructure and Private Equity, Skandia
Thomas Kansy, Principal, Vivid Economics
Moderated by: Edward Baker, Senior Specialist, Climate and Energy Transition, PRI
12:30
Lunch
13:30
PRI Tools and Guides
The session will cover how signatories can best make use of PRI tools & guides, reporting & assessment data and process as well as the PRI Academy and Collaboration Platform. Attendees will get a clear overview of the tools at their disposal to meet the PRI's principles – especially Principle I. We will also include a number of examples how these tools have been applied in practice.

Yulia Sofronova, Head of Nordics, CEE & CIS, PRI
13:50
ESG integration in fixed income
Using a practical case study, this session will explore how ESG consideration in fixed income investing differs from equity practices, the techniques and tools available for bond valuations and the nuances of ESG assessments.

Maria Gillholm, Vice President, Senior Credit Officer, Moody's Investors Service
Victoria Lidén, ESG Analyst, Öhman
Wilco Van Heteren, Director of ESG Research, Sustainalytics
Moderated by: Carmen Nuzzo, Head of Fixed Income, PRI

14:40
Break
15:10
Active Ownership 2.0
This session will present a vision for the next evolution in stewardship; a future where stewardship focuses on achieving real-world outcomes on critical systemic issues, using enhanced collaboration between investors as the key tool to achieve them. Following a presentation from the PRI, attendees will have a chance to discuss the topics raised in a Q&A format.

Paul Chandler, Director of Stewardship, PRI
15:40
SDGs: how can investors align their portfolios?
This session will explore the role of institutional investors in contributing to the achievement of the SDGs. The PRI will present how investors can contribute to the SDGs through understanding, measuring and changing outcomes (both positive and negative) after which there will be a panel discussion on translating concepts into practice.

Helena Charrier, Assistant Director, Sustainability Policy, Caisse des Dépôts et Consignations
Eva Halvarsson, Board Member, PRI & CEO, AP2
Maggie Loo, Partner, Client & Strategy Development, Bridges Fund Management
Moderated by: Shelagh Whitley, Director of ESG and SDGs, PRI
16:30
Closing Remarks

Yulia Sofronova, Head of Nordics, CEE & CIS, PRI
16:45
Networking Drinks
*agenda subject to change.
Venue
Skandia, Lindhagensgatan 86, 106 55 Stockholm, Sweden