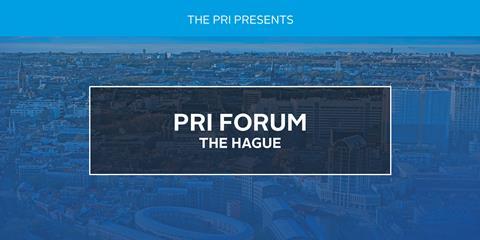 Date: Thursday, 21 November 2019
Time: 09:00 - 17:00 (Followed by networking drinks)
Location: Aegon Asset Management, Aegonplein 50, 2591 TV The Hague, The Netherlands
The PRI Forums, a new series of regional one-day events exploring the latest responsible investment trends and practices from around the world, will be coming to The Netherlands on 21 November.
The PRI Forum The Hague will cover a wide-spectrum of PRI's latest work – from policy to ESG issues to investment practices. Designed to inform and facilitate discussion, the Forum will provide a valuable update on the PRI's work and an opportunity for knowledge-sharing between key stakeholders in the responsible investment community in the Benelux region.
Investor action on climate change – identified by PRI's signatories as their highest priority ESG issue – will have a strong focus. We will cover TCFD as a risk management framework, investor action that is imperative in preparing financial markets for climate-related policy and regulatory risk, as well as the latest update on the new EU Taxonomy. We'll also be sharing PRI thinking, tools and guides, including the new PRI sovereign bond guidance.
Representatives from the PRI including Martin Skancke, Board Chair and Nathan Fabian, Chief Responsible Investment Officer will be joined by a diverse range of PRI signatories sharing their experiences.
If you have any questions, please contact events@unpri.org.
The PRI would like to thank Aegon Asset Management for hosting this event.

Draft agenda*
09:00
Registration
09:30
Welcome from PRI and host

Martin Skancke, Board Chair, PRI
Bas NieuweWeme, CEO, Aegon Asset Management
09:40
SDGs: how can investors align their portfolios?
This session will explore the role of institutional investors in contributing to the achievement of the SDGs. Presenting three examples from institutional investors, this session will show how some PRI signatories have approached the SDGs in practice.
The PRI's conceptual framework has three pillars on how investors can contribute to the SDGs through: understanding, measuring and changing outcomes (both positive and negative).

Isabelle Cabie, Global Head of Responsible Development, Candriam
Nathan Fabian, Chief Responsible Investment Officer, PRI
James Magor, Manager: Responsible Investment, Actis
Moderated by: Xander den Uyl, Trustee, ABP

10:30
The EU Taxonomy: state of play
The session will cover the latest political and technical Taxonomy developments and include time for audience Q&A.

Nathan Fabian, Chief Responsible Investment Officer, PRI
Alyssa Heath, Head of EU & UK Policy, PRI

11:05
Break
11:25
TCFD: Managing risks, positioning for new opportunities
Is TCFD only about reporting? As a disclosure framework, reporting is clearly a part of it. Yet, the Taskforce's recommendations were originally designed to help asset owners assess the resilience of their investment strategies in a world where countries are successful in achieving the objectives of the Paris Agreement, as well as for asset managers to help determine which companies would be likely to transform their business models to be profitable in a low and, eventually, zero carbon world. This panel will review the progress and the challenges with TCFD implementation.

Martin Skancke, Board Chair, PRI and Member, TCFD
Cristina Cedillo, Engagement Specialist, Robeco
Moderated by: Edward Baker, Senior Specialist, Climate and Energy Transition, PRI
12:10
Climate Change: Preparing for an inevitable policy response
As teenagers march on parliaments, the pressure for climate-related policy increases from all angles – environmental, social and economic. Against this backdrop, this session will cover The Inevitable Policy Response and the UN Net Zero Asset Owner Alliance.

Jason Eis, Executive Director, Vivid Economics
Nathalie Lhayani, Director, Group Sustainability Policy, Groupe Caisse des Dépôts
Martin Skancke, Board Chair, PRI
Moderated by: Sagarika Chatterjee, Director of Climate Change, PRI
13:00
Lunch
14:00
PRI Tools & Guides: helping signatories to meet Principles 1&2
The session will cover how signatories can best make use of PRI tools & guides, reporting & assessment data and process as well as the PRI Academy. Attendees will get a clear overview of the tools at their disposal to meet the PRI's principles – especially Principle I. We will also include a number of examples how these tools have been applied in practice.

Toby Belsom, Director of Investment Practices, PRI
14:30
ESG Integration in Fixed Income
Investors are developing more systematic ESG incorporation across asset classes and fixed income is no exception. This practical session will compare and contrast approaches to integrating material ESG factors in investment research, security valuation and portfolio construction in corporate and sovereign bonds. It will also explore the role of engagement with issuers as a critical part of the integration process.

Christoforos Bikos, Senior Vice President, Manager Research, Redington
Jesús Martínez, Senior Fixed Income Portfolio Manager, Aegon Asset Management
Nish Popat, Senior Portfolio Manager, Neuberger Berman
Moderated by: Anna Georgieva, Manager, Investment Practices, PRI

15:30
Break
15:50
Active Ownership 2.0: Moving to Outcomes
This session will present a vision for the next evolution in stewardship; a future where stewardship focuses on achieving real-world outcomes on critical systemic issues, using enhanced collaboration between investors as the key tool to achieve them. Following a presentation from the PRI, attendees will have a chance to discuss the topics raised in a short workshop session.

Paul Chandler, Director of Stewardship, PRI

16:20
ESG innovations: three new themes for investors
Looking to the future, this session will inspire investors with ideas they can use to create real, meaningful change.

Maria Lettini, Director, FAIRR Initiative
Marjolein Meulensteen, Portfolio Manager, Responsible Investment, ASR
Joris van Toor, Strategy Advisor, De Nederlandsche Bank

16:50
Closing remarks

Don Gerritsen, Head of Benelux, PRI

17:00
Networking Drinks
*agenda subject to change.
Venue
Aegon Asset Management, Aegonplein 50, 2591 TV The Hague, The Netherlands