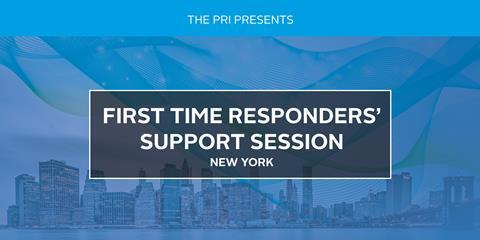 Date: Wednesday, 11 December 2019
Time: 2:00pm - 4:30pm
Location: MacKay Shields, 1345 6th Ave, New York, NY 10105
The PRI is organizing a support session for its reporting framework on December 11th, 2019 in New York.
Members from PRI's Reporting and Assessment team will cover information useful for first time mandatory and voluntary responders, and host a smaller discussion at the end for signatories with multi-boutique structures.
Unfortunately, due to the high level of interest in this event we have had to close registration. For any questions, please reach out to Saumya Mehrotra Saumya.mehrotra@unpri.org
Agenda:
2:00pm - 3:30pm: Presentation by the PRI followed by Q&A
PRI Reporting & Assessment overview
Assessment approach
Reporting on climate change
Minimum requirements and Leaders' Group
Reporting outputs
The Data Portal
The Reporting Framework Review
3:30pm - 3:45pm: Break
3:45pm - 4:30pm: Discussion amongst multi-boutique signatories

The PRI would like to thank Mackay Shields LLC for hosting this event.
Venue
MacKay Shields, 1345 6th Ave, New York, NY 10105