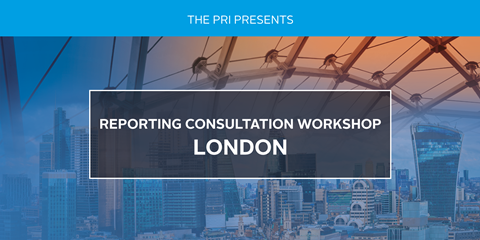 Date: Thursday, 2 May 2019
Time: 10:00am - 12:00pm
Location: Investec Asset Management, Woolgate Exchange, 25 Basinghall Street, London EC2V 5HA, UK

The PRI will host a workshop in London as part of our recently launched Reporting Framework review and consultation.
Signatories are invited to join us for a unique opportunity to help shape the future of reporting and assessment with the PRI's CEO, Fiona Reynolds.
During the workshops, participants will discuss the challenges and possible solutions regarding the evolution of the reporting and assessment framework over the next five to 10 years, as well as the responsible investment market more generally. Discussions will include the potential role of the Sustainable Development Goals and outcomes-based reporting.
The outcomes of the workshop discussions will be collected by the PRI as feedback, complementing the Reporting Framework consultation survey, and will be used to develop reporting and assessment.
For more information or questions, please email us or call the Reporting & Assessment team via reporting@unpri.org or +44 (0) 2037143187.
This event is open to PRI signatories only.


Venue
Investec Asset Management, Woolgate Exchange, 25 Basinghall Street, London EC2V 5HA, UK