Date: 26-27 April 2018

Location: Hotel Atlantis by Giardino, Döltschiweg 234, CH-8055 Zurich, Switzerland

The Responsible Finance & Investment (RFI) Summit brings together key stakeholders within responsible finance to build connections to new growth opportunities and more measurable impact. The RFI Summit will play a vital role in connecting representatives from across the responsible finance industry to build on the growing cooperation between SRI, ESG and Islamic finance.
The RFI Summit in Zurich is an initiative of the RFI Foundation and Swiss Arab Network to build awareness of shared values that can bring socially responsible investing (SRI), environmental, social and governance (ESG) and Islamic finance together to increase their positive impact.
For further details see the RFI Summit website.
PRI signatories can take advantage of a 30% discount on the registration fee by entering discount code "PRI2018".


Organised by the RFI Foundation and the Swiss Arab Network.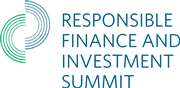 Venue
Hotel Atlantis by Giardino, Döltschiweg 234, CH-8055 Zurich, Switzerland