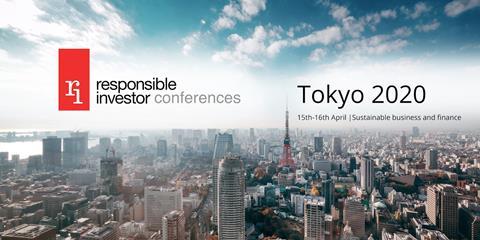 Date and Time: Wednesday, 15th April. 08:00am - 17:30pm
Thursday, 16th April. 08:30am - 15:30pm

Location: Tokyo Midtown Hall - Midtown East, B1, 9 Chome-7-1 Akasaka, Minato, Tokyo 107-0052
RI Tokyo 2020 is an opportunity for all financial professionals to explore, discuss and learn about different global perspectives towards the rapidly developing sustainable business arena. The conference will provide a deeper and more practical knowledge of sustainability and sustainable finance.
For more information on how to register, please click below.
The RI Tokyo 2020 agenda will include:
The evolution of ESG and sustainable finance in Japan
A growing diversity of approach: how are national, regional and international differences unfolding in the sustainable finance space?
Physical and transition risk in Asia
Fiduciary duty for an ageing society
Active ownership and practical stewardship solutions
Sustainability and fixed income: taking a strategic approach to ESG in fixed income
A look at innovation, stewardship and the role of new technologies in risk mitigation
The shrinking workforce: how to improve diversity and reform corporate culture
Venue
Tokyo Midtown Hall - Midtown East, B1, 9 Chome-7-1 Akasaka, Minato, Tokyo 107-0052