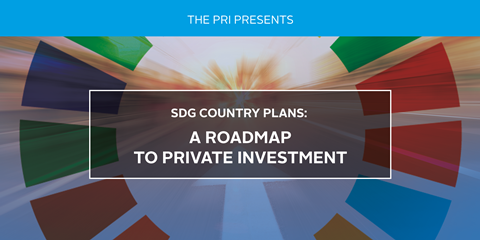 Date: 18 July 2018

Time: 1:15pm - 4:40pm

Location: Instituto Cervantes, 211 East 49th St, NY, NY

Co-hosted by: UN Global Compact, ECLAC, PRI and UNEP FI
This side event to the High-level Political Forum (HLPF) will address the importance of multi-stakeholder communication around the SDGs at the country level. We will explore how governments can provide a roadmap for the private sector and capital markets to invest in the realization of the SDGs. The event will bring together representatives of UN Member States, investors, financial institutions, UN Agencies and other development organizations, and will build upon the momentum of the HPLF and newly released Voluntary National Reviews (VNRs) by UN Member States.
The session is part of the work on financial innovation for the SDGs undertaken by the Global Compact, the Principles for Responsible Investment and UNEP Finance Initiative as part of the UN Alliance for SDG Finance. The event will inform global discussions on financing the SDGs and the role of capital markets in identifying investment opportunities that have a positive impact on the SDGs, particularly in emerging markets. Outcomes will feed into upcoming Financing for Development work, as well as the UN Private Sector Forum and Secretary-General Finance Roundtable during the next UN General Assembly in September 2018.
If you have any questions or would like to see a more detailed background note, please contact Danielle.Chesebrough@unpri.org.


Agenda
1:15pm
Arrival & registration
1:30pm
Opening keynote
1:50pm
Panel Discussion- Multi-Stakeholder Collaboration at the Country Level
Representatives from governments, the UN, and the private sector will discuss challenges of participating in a multi-actor public-private policy dialogue and establishing SDG country goals, targets and indicators that align public and private strategies, while fostering collaboration and synergies to maximize impact.
2:45pm
Coffee break
3:00pm
Mobilizing Private Capital for SDG Country Plans
This session will focus on enhancing the dialogue between governments and the private sector on investments that will advance the SDGs at the country level. Participants will discuss the type of information that would be beneficial when considering country- or region-specific SDG investment opportunities.
4:30pm
Event close