Date: Wednesday 20 March 2019
Location: B3 (Brazilian Stock Exchange), Sao Paulo, Brazil

Brazil will host the first in a series of SDG Investment Forums in 2019 to enhance dialogue at the local level between investors, companies, the UN and Governments on investments to advance the SDGs.
Focusing on the unique opportunities, needs and challenges in Brazil, the SDG Investment Forum and resulting outcome report will advance a dialogue on increasing private investments in SDG priority areas. The Forum will feature discussion on SDG investments across several sectors and asset classes, including local publicly listed companies, foreign direct investment, debt instruments, and development finance.
Discussions will explore how investors, financial institutions, companies and policymakers are looking at SDG investments and what they see as the unique challenges and opportunities in Brazil.
The Forum is by invitation only. If you are interested in attending or would like more information please contact Danielle.Chesebrough@unpri.org.
Other forum locations to be announced.
Draft Agenda
08:30
Registration and Welcome reception
09:00
MC: Instructions and buffer time
09:15
Welcome
B3, UN Global Compact and PRI Local Networks
09:30
Keynote: Investing in a Sustainable Future for Brazil

SDG investment opportunities in Brazil for private investors, based on VNR and other country plans and spanning private, public and public-private investments.
Government of Brazil (TBC)
09:45
Panel: Global and Local Investors for the SDGs

What private investors look for in SDG investments, key industry and government priorities, barriers they face and what they need from issuers and policymakers.
Moderator: PRI; Pimco, Performa, Previ (TBC), Herems (TBC), Itau Asset Management
10:30
SDG Investment Presentation: Local Company

Aligning business strategy with SDGs
Natura (TBC)
11:15
SDG Investment Presentation: Global Company

Promoting Foreign Direct Investments that enable the SDGs
Enel (TBC)
12:00
Panel: Role of financial intermediation

Role of financial institutions (private and public) and stock exchanges in creating a pipeline of mainstream SDG investments. Intermediation role, structuring considerations, matching investor demand with issuer requirements.
Moderator: UNEP FI; B3, BRDE (TBC), Itaú Unibanco, Societe Generale (TBC)
12:45
Networking Lunch
13:45
Keynote: Achieving the SDGs in Brazi

Role for private and public sector collaboration on financing the SDGs, including the role of development banks – global, regional and national
BNDES (TBC)
14:00
SDG Investment Presentation: Green Bond

Featuring a discussion on lessons learned since the first green bond was issued
Klabin (TBC)
14:45
Panel: Exploring the Supply-­‐‑side of SDGs Investments

The panel will explore a range of SDG investment Opportunities in Brazil, including real economy companies and banks, both global and local, as well as investments, and private-­public partnerships.
Moderator: UN Global Compact; Suzano Papel e Celulose (TBC), Santander (TBC), CVM (TBC), WWF (TBC)
15:30
Coffee/Tea break
15:45
SDG Investment Presentation: Blended Finance

Featuring AB Loans
IDB Invest (TBC)
16:30
SDG Investment Presentation: Mainstream Bonds meet SDG Impact

Need to gauge if the company has plans to issue any bonds to fund its SDG work
Ambev (TBC)
17:15
Reflections

Key speakers share core takeaways from the day. Opportunity to tap into other strategic people to speak at the event.
17:30
Recap and closing remarks

Itaú, UN DESA and UNDP
18:00
B3 Bell Closing Ceremony and Reception to Follow
The SSE is organised by the UN Conference on Trade and Development (UNCTAD), the UN Global Compact, the UN Environment Program Finance Initiative (UNEP FI), and the PRI.
Co-organisers: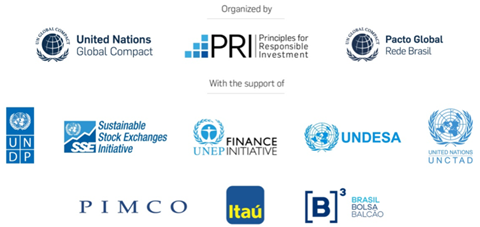 Venue
B3 (Brazilian Stock Exchange), Sao Paulo, Brazil