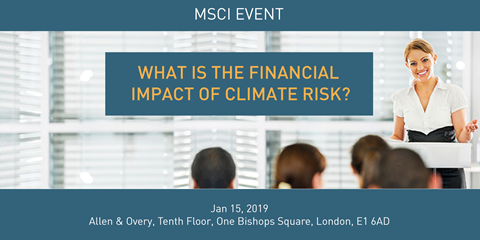 Date: 15 January 2019
Time: 8:30am - 11:00am
Location: Allen & Overy, Tenth Floor, One Bishops Square, London, E1 6AD
Significant advances in data and modelling are helping investors better understand their exposure to climate risk. More investors are looking beyond their carbon footprint to understand how various climate scenarios can impact their risk and return profile such as extreme weather events, changing climatic conditions, government climate policies and disruptive technological advances.
MSCI invites you to join our seminar to hear from leading industry experts on the latest developments from the COP24 Katowice Climate Change Conference and from investors on how they are managing climate risk and their transition to a low carbon economy.
Discussion Topics:
DEFINING THE PROBLEM & UNDERSTANDING THE RISK: get the latest investor-relevant updates from the COP24 climate talks, hear from experts on how climate change might affect asset values and examine the latest research on energy transition and stranded assets
MANAGING THE LOW CARBON TRANSITION: how investors across the asset value chain are reporting, managing and mitigating climate risk
Speakers:
Mark Cornelius, Head of Major Life Groups Division, Prudential Regulation Authority, Bank of England
Jean-Francois Coppenolle, Group Head of Financial Risk, Aviva
Sagarika Chatterjee, Director of Climate Change, PRI
Kingmill Bonds, New Energy Strategist, Carbon Tracker Initiative
Dana Sasarean, Vice President, Senior Analyst, MSCI
Marion de Marcillac, Executive Director, Head of Climate Change Solutions, MSCI
Panos Seretis, Executive Director, Head of ESG Research, EMEA, MSCI
For more information and to register, please click here.
Venue
Allen & Overy, London