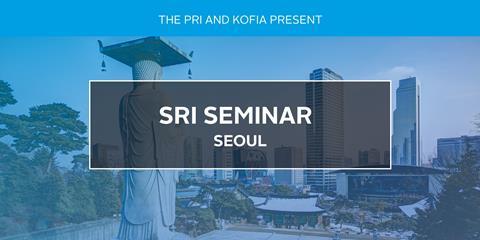 Date: Thursday 18 April 2019
Time: 2 – 4:30pm
Location: Bulls Hall, 3/F, KOFIA offices, 143 Uisadang-daero, Yeongdeungpo-gu, Seoul

The PRI and the Korea Financial Investment Association (KOFIA) are delighted to invite you to join an introductory event on SRI/ Responsible Investment (RI).
This seminar will provide a unique opportunity to hear from PRI signatories and local stakeholders, as well as a senior representative from the PRI, to introduce SRI/RI concepts, share on their RI journey and approach to ESG incorporation, and discuss local and regional trends and developments, such as the Korean Stewardship Code.
Speakers include: the CIO of the National Pension Service (NPS), the CEO of Hi Asset Management, the CEO of Sustinvest and senior level representatives from HSBC, MSCI, Korea Corporate Governance Service, UN Global Compact Korea Network, Korea National Housing Corporation and the National Assembly Research Service participating across two panel sessions "The trend of Responsible Investment at Home and Abroad and its implications" and "Current Status and Challenges on Responsible Investment in Korea".
We hope attendees will leave with a greater understanding of why and how investors are undertaking SRI/RI, as well as wider developments and trends in this space at a local and regional level.
Venue
Bulls Hall, 3/F, KOFIA offices, 143 Uisadang-daero, Yeongdeungpo-gu, Seoul