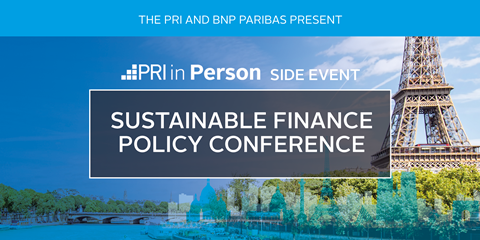 Date: Monday, 9 September
Time: 10:30am - 18:30pm CET
Location: Pavillon Dauphine, Place du Maréchal de Lattre de Tassigny, 75116, Paris
Fee: Complimentary
Who is eligible to attend? Priority will be given to policy makers, public affairs and regulatory professionals.
Taking place alongside PRI in Person 2019, the PRI, BNP Paribas and its investment arm, BNP Paribas Asset Management, are convening the world's first responsible investment conference focused on global policy reform in support of a more sustainable financial system.
Research by the PRI finds that across the world's 50-largest economies, there are now 400 policy instruments that require or encourage ESG integration across the intermediation chain – half of which were introduced in the last three years. Research by Mercer of over 900 European pension funds finds that ESG-related regulation is the number one driver for ESG integration.
The PRI, BNP Paribas and BNP Paribas Asset Management, will invite senior policymakers, regulatory affairs professionals and investment professionals to participate in discussion on policy reform around the world, on issues such as impact or climate. ESG professionals are welcome to attend where they have policy responsibilities, or alongside their policy, regulatory or public affairs colleagues.
Registration for this event is closed. To enquire about attending, please contact Blandine Machabert
For more information on the event, please contact the PRI's Policy team.

The PRI would like to thank BNP Paribas and BNP Paribas Asset Management for hosting this event.



10.30 – 11.00
Registration

11.00 – 11.25

Welcoming remarks – Nathan Fabian, Chief Responsible Investment Officer, PRI

Opening keynote – Guy Opperman MP, UK Parliamentary Under Secretary of State for Pensions and Financial Inclusion

11.25– 12.35

Around the world in sustainable policy updates

This opening session will provide "snapshot updates" of sustainability policy reform in key markets.

France: Natasha Cazenave, Managing Director, Policy and International Affairs Directorate, French Securities Markets Authority (AMF)
Canada: Barbara Zvan, Chief Risk Officer, Ontario Teachers Pension Plan (OTPP)
Australia: David Atkin, Chief Executive Officer, Cbus
Japan: Satoshi Ikeda, Chief Sustainable Finance Officer, Financial Services Agency (FSA)
EU: Manuela Zweimueller, Head of Policy Department, European Insurance and Occupational Pensions Authority (EIOPA)

Moderated by Will Martindale, Director of Policy and Research, Principles for Responsible Investment (PRI)

12.35 – 13.30

Lunch

13.30 – 14.30

The role of multilaterals in mainstreaming sustainable finance policy

This session will explore the challenges and opportunities for multilaterals – the OECD, IOPS, IOSCO and World Bank – in mainstreaming sustainable finance policy.

Keynote: Greg Medcraft, Director of Financial and Enterprise Affairs, Organisation for Economic Co-operation and Development (OECD)
André Laboul, Secretary General, International Organisation of Pension Supervisors (IOPS)
Ekaterina Gratcheva, Lead Financial Officer, World Bank Group
Tajinder Singh, Deputy Secretary General, International Organization of Securities Commissions (IOSCO)

Moderated by Margarita Pirovska, Head of Fiduciary Duty in the 21st Century, Principles for Responsible Investment (PRI)

14.30 – 15.00

A Legal Framework for Impact

The PRI, UNEP FI and The Generation Foundation have launched a new project, a "Legal Framework for Impact", to understand how investors should be assessing and accounting for the sustainability impact of investment decision-making as a core part of investment activity.

Keynote: David Blood, Partner, Generation IM

Introduced by Elodie Feller, Programme Lead, Investment, United Nations Environment Programme Finance Initiative (UNEP FI)

15.00 – 15.20

Break

15.20 – 16.00

The inevitable policy response to climate change

Investors today do not fully recognize the likelihood and impact of an 'inevitable policy responses (IPR)' to climate change.

Keynote: Teresa Ribera Rodríguez, Minister for the Ecological transition, Spain

Introduced by Helena Viñes Fiestas, Deputy Global Head of Sustainability, Global Head of Stewardship and Policy, BNP Paribas Asset Management

16.00 – 17.00

The future of sustainable financial regulation: Stewardship, Beneficiaries and Technology

This session will explore the future of sustainable financial regulation with a focus on investor stewardship, the role of understanding and incorporating beneficiary sustainability preferences, and technology.

Jen Sisson, Chief of Staff, Financial Reporting Council (FRC)
Martin Spolc, Head of Unit, DG FISMA, European Commission
Paul Tang, Member of the European Parliament (MEP)
Sharon Hendricks, Chair, CalSTRS

Moderated by Alyssa Heath, Head of EU and UK Policy, Principles for Responsible Investment (PRI)

17.00 – 17.30

What's next for sustainable finance in the US

The US is the world's largest capital market by some way. The conference concludes with a Q&A with SEC Commissioner Robert J. Jackson on the opportunities for US sustainable finance policy, despite political headwinds.

Commissioner Robert J. Jackson, U.S. Securities and Exchange Commission (SEC)

Moderated by Heather Slavkin Corzo, Head of US policy, Principles for Responsible Investment (PRI)

17.30 – 17.45

Conclusion remarks – Frédéric Janbon, Chief Executive Officer, BNP Paribas Asset Management

17.45 – 18.30

Networking
Venue
Pavillon Dauphine, Place du Maréchal de Lattre de Tassigny, 75116, Paris