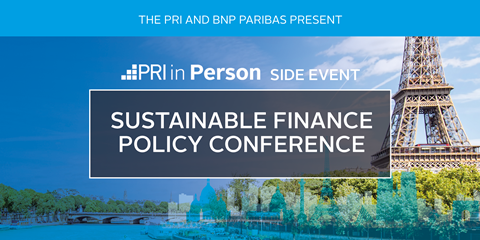 Date: Monday, 9 September 2019
Time: 10:30 - 18:30 (Paris time/ CET)
Location: Pavillon Dauphine, Place du Maréchal de Lattre de Tassigny, 75116 Paris

Taking place alongside PRI in Person 2019, the PRI, BNP Paribas and its investment arm, BNP Paribas Asset Management are convening the world's first responsible investment conference focused on global policy reform in support of a more sustainable financial system.
Research by the PRI finds that across the world's 50-largest economies, there are now 400 policy instruments that require or encourage ESG integration across the intermediation chain – half of which were introduced in the last three years. Research by Mercer of over 900 European pension funds finds that ESG-related regulation is the number one driver for ESG integration.
The PRI and BNP Paribas and BNP Paribas Asset Management will invite senior policymakers, regulatory affairs professionals and investment professionals to participate in discussion on policy reform around the world, on issues such as impact or climate. ESG professionals are welcome to attend where they have policy responsibilities, or alongside their policy, regulatory or public affairs colleagues.
To join this conference, register your interest below.
For more information on the event, please contact the PRI's Policy team.

The PRI would like to thank BNP Paribas and BNP Paribas Asset Management for hosting this event.


Venue
Pavillon Dauphine, Place du Maréchal de Lattre de Tassigny, 75116, Paris