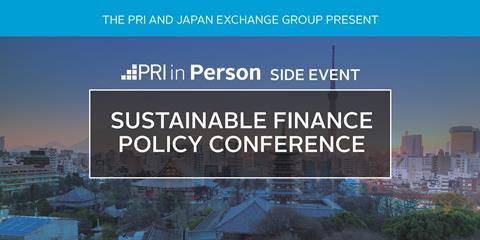 Date: Monday, 5 October 2020
Time: 10:00am - 5:30pm
Location: 2-1 Nihombashi Kabutocho, Chuo-ku, Tokyo 103-8224, Japan

Join the PRI and Japan Exchange Group for our second responsible investment conference dedicated to sustainable finance policy reform.
Taking place in Tokyo on 5 October 2020, the day-long conference will convene senior policy makers, and regulatory and investment professionals. The conference runs alongside PRI In Person. ESG professionals that wish to attend are asked to attend with their policy colleagues.
Click here to see highlights from the 2019 Sustainable Policy Conference.
Agenda*
10:00
Registration
10:30
Keynote 1: Welcome remarks from JPX and PRI
10:45
There have now been over 730 hard and soft-law policy revisions, across some 500 policy instruments, that support, encourage or require investors to consider long-term value drivers, including ESG factors.

Panel 1: Updates from around the world on responsible investment-related policy and regulation introduced in 2019 / 2020, including:

EU investor disclosures regulation
UK and Japan stewardship code revisions


In partnership with the Sustainable Stock Exchanges initiative and the World Federation of Exchanges:

Panel 2: Focus on corporate ESG disclosures, including:

Stock exchange-led ESG disclosure requirements
EU non-financial reporting directive
US SEC disclosure requirements

12:15
Lunch
1:15
We are moving from sporadic adoption to comprehensive national sustainable finance strategies. Further policymaking is inevitable.

Panel 3: National sustainable finance strategies, including:

California Fiduciary Duty Roadmap
Australia Sustainable Finance Initiative
Focus on Japan

2:15
Break
2:45
Investors are increasingly involved in public policy development and implementation on sustainable finance.

Presentation 1: Case-study example of investor engagement in public policy. Lessons learned and recommendations for good practice.
3:15
We are getting more technical and implementation focussed – at least in part because the regulators have got involved.

Presentation 2: TBC
3:45
Break
4:15
Real economy outcomes are the new focus for investors and for policymakers.

Panel 4: Real economy policy change, including:

EU Green New Deal
UK COP 26
PRI's Inevitable Policy Response programme

5:15
Keynote 2: What next for public policy in Japan?

*Agenda subject to change
Venue
2-1 Nihombashi Kabutocho, Chuo-ku, Tokyo 103-8224, Japan