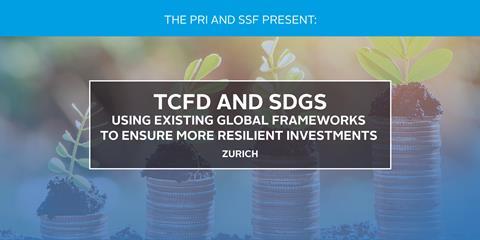 Date: Tuesday, 5 November 2019
Time: 10:00‐12:15 (followed by light lunch)
Location: Zürcher Kantonalbank, Atrium, Bahnhofstrasse 9, Zurich

Today, investors are increasingly expected to provide disclosure on sustainability‐related risks and align their investments with sustainable opportunities. Multiple international frameworks support and guide investors in fulfilling these expectations. Most notably and rapidly gaining attention amongst investors are the recommendations by the Task Force on Climate-Related Financial Disclosures (TCFD) linking climate risks to a company's financials, and the UN Sustainable Development Goals (SDGs), adopted by all United Nations Member States in 2015.

At this event organised by the Principles for Responsible Investment (PRI) and Swiss Sustainable Finance (SSF), the PRI will provide in-depth knowledge and guidance specifically related to these two frameworks, helping participants understand how to apply elements of the frameworks within their investment processes. In a subsequent panel discussion, experts and participants will interact and discuss both frameworks and their respective opportunities and challenges.
The event is free of charge and will be held in English.
If you have any questions please contact melanie.klebeck@unpri.org.
Registration for this event is full. Please enter your details to the waitlist below, we will contact you if any places become available.
The PRI would like to thank ZBK for hosting this event and lunch.
Agenda*

9:30

Registration

10:00

Welcome note

Sabine Döbeli, CEO, Swiss Sustainable Finance

Melanie Klebeck, Signatory Relationship Manager, PRI

10:15

Presentation on Asset Owner Guide to the TCFD recommendations

Edward Baker, Senior Policy Adviser – Climate and Energy Transition, PRI

10:45

Presentation on the Investor role in delivering the SDGs

Shelagh Whitley, Director of ESG, PRI

11:15

Panel of experts: How practitioners incorporate frameworks effectively and efficiently and challenges they face

René Nicolodi, Deputy Head of Asset Management, Swisscanto Invest by Zürcher Kantonalbank,

Claudia Bolli, Head of Responsible Investing, Swiss Re,

Tycho Sneyers, Managing Partner, LGT CP and PRI Board member

Moderator: Sabine Döbeli, CEO, SSF

12:10

Closing note

René Nicolodi, Deputy Head of Asset Management, Swisscanto Invest by Zürcher Kantonalbank

12:15

Light lunch
*Please note, this agenda is subject to change.
Venue
Zürcher Kantonalbank, Atrium, Bahnhofstrasse 9, Zurich