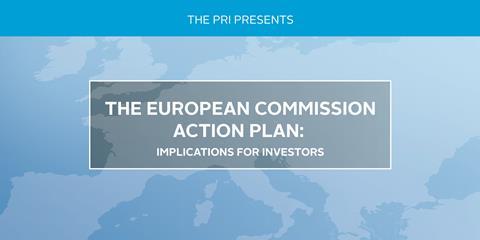 Date: Tuesday 26 June 2018

Time: 9:30 - 13:45

Location: Bastion Tower Place du Champ de Mars, 1050, Brussels
The first legislative proposals of the European Commission's Action Plan are expected for release in Q2 2018.
See an initial assessment of how PRI signatories can support the 10 proposed reform areas of the Action Plan here.
On Tuesday 26 June, the PRI will convene senior institutional investors and representatives from the Parliament, Commission and Council in Brussels to share their views on the direction of the legislative proposals on investor duties and taxonomy.
The event, offers an influential forum for investors, Parliament, Commission and Council to exchange views as the legislative proposals are being refined.
European Commission Vice President for the Euro and Social Dialogue, Valdis Dombrovskis, will join to give a keynote speech alongside two excellent panels including representatives from the European Commission, Council and Parliament and members of the technical expert group announced last week.

Speakers also include:
Lieve Wierinck, MEP
Sven Gentner, DG FISMA
Michael Collins, InvestEurope
Anne Blondy-Touret, French Permanent Representation to the EU
Sara Lovisolo, Borsa Italiana
Spaces are limited, please register your interest below. For further information please contact: policy@unpri.org
The PRI would like to thank Freshfields for supporting this event.
Venue
Bastion Tower Place du Champ de Mars, 1050, Brussels