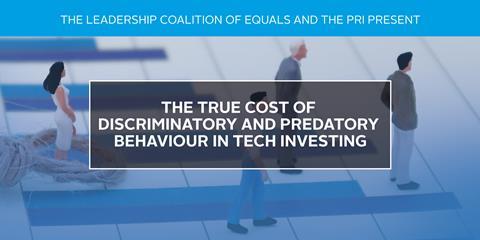 Date: Friday 14 September 2018

Time: 7.15 – 8.45am

Location: San Francisco Marriott Marquis, 780 Mission St, San Francisco, CA 94103, USA
While women form more than 50% of businesses in the US and 30% of businesses globally, they continue to receive only 2-3% of entrepreneurial private capital funding (of which 77% is focused on technology). Much of this disparity has been attributed to poor diversity and inclusion practices; ranging from predatory behaviors like harassment to more subtle factors like unconscious bias.
The Leadership Coalition of EQUALS (the Global Partnership for Gender Equality in the Digital Age) and The PRI are hosting a breakfast discussion on understanding the business case for diversity and inclusion in tech investing. This effort is motivated by statistics on the low investment in women in tech and recent revelations on persistent predatory behavior towards women in the industry.
This interactive investor roundtable will shed light on the true cost and benefit of current diversity and inclusion practice, using recent research from both academia (Berkeley, GMU, Harvard) and industry to discuss how the findings show a quantitative demonstrated correlation between good diversity and inclusion practice and investment performance. The event will intersperse discussion among participants with short 3-4 slides summaries of learnings from a diverse panel of leading LPs, Consulting Firms and Academic Institutions. Latest findings suggest that shaping investment policy to measure, and adding diligence on, diversity and inclusion practice is a fiduciary imperative and the purpose of this roundtable is to discuss, assimilate, and potentially set in place immediate action steps together with a roadmap towards achieving the end goal.
"Look at how much the #MeToo movement has disrupted what's expected in society. The conversations have changed drastically since last fall. So I can't totally predict when the stats will change, but I can put money where I think there are levers. And I think the LP community is one of the levers."

Interview of Melinda Gates for Fortune.com (by Polina Marinova), 30 May 2018
About EQUALS
EQUALS – the global partnership for gender equality in the digital age – is a global network delivered by a committed partnership of corporate leaders, governments, non-profit organizations, and others around the world working together to bridge the digital gender divide – by bringing women to tech, and tech to women – and in so doing, bettering the lives of millions worldwide. EQUALS has been recognized by the United Nations General Assembly and the G20. EQUALS was founded in 2016 by five partners: the International Telecommunications Union, UN Women, the International Trade Centre, GSMA and the United Nations University. Today, EQUALS is a growing global network of more than 60 partners – including governments, companies and NGOs. Equals focuses on ICT access, skills, leadership and research to bridge the gender digital divide. Access is about improving women and girls' digital technology access, connectivity and security. Skills is about supporting development of science, technology, engineering and math skills of women and girls. Leadership is about issues like promoting women in decision-making roles within the ICT field, more inclusive work environments and connecting women entrepreneurs to investors.
Organiser
This event is organised by The Leadership Coalition of EQUALS in partnership with The PRI.