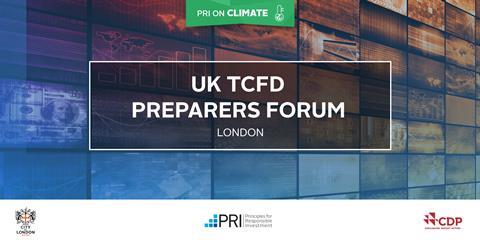 Date: Monday, 19 November 2018
Time: 09:00 - 16:00
Location: Guildhall, Gresham Street, London EC2V 7HH, UK
We are delighted to invite you to the first UK TCFD Preparers Forum, a unique event held in partnership with The City of London's Green Finance Initiative and CDP.
This event brings businesses and the financial sector together to learn how both preparers implementing TCFD and how data users are integrating this new information into their financial products, services and investments.
Confirmed speakers are:
Senior representatives from BEIS and the Bank of England
Sir Roger Gifford, Chair of the City of London Green Finance Initiative
Russell Picot, Special Advisor to the FSB Taskforce on Climate-related Financial Disclosures
Nathan Fabian, Chief Responsible Investment Officer, PRI
Paul Simpson, CEO, CDP
Rick Stathers, Senior ESG Analyst, Aviva Investors
Rebecca Self, CFO sustainability, HSBC
Rahul Gosh, Senior VP ESG and green bonds, Moody's
Ben Caldecott, Director Oxford Smith School
Hilde Roed, VP Sustainability, Equinor (formerly Statoil)
Simon Messenger, Director UK & France, 2 Degrees Investing Initiative
Willis Tower Watson, EBRD, SP Trucost, Barclays, Unilever
Panel discussions and interactive sessions will focus on:
Insights on from the TCFD secretariat, PRI & CDP on the response so far from financial institutions and corporates.
How to get started on TCFD. What investors are looking for from corporates and how they are using this information.
Guidance for developing a multi-year strategy to adopt TCFD.
Demonstration of climate scenario tools and developments in data capture.
If you have any questions, please do not hesitate to contact us at climate@unpri.org.

Agenda
Please note: In order to coordinate with the timing of IGCC's Annual Conference, the investor sections of this event will finish by 11:30 am.
08:15
Registration and networking
09:00
Welcome remarks

Speakers:


Sir Roger Gifford, Chairman of Green Finance Initiative
Sarah Breeden, Executive Director, International Banks Supervision, Prudential Regulation Authority (PRA), Bank of England
Matthew Scott, Head of Green Finance, Department of Business Energy and Industrial Strategy

09:25
TCFD 16 months on: how are investors & companies responding?

Today, the TCFD has more than 500 supporters, representing a broad range of sectors with a combined market capitalization of over $7.9 trillion. This includes over 287 financial firms, responsible for assets of nearly $100 trillion. In 16 months since the 2017 TCFD report was released, what are the next steps needed to bring climate-related disclosures into the mainstream of financial reporting and into the heart of corporate governance?

Speakers:

Russell Picot, Special Advisor, FSB Task force on Climate-related Financial Disclosures
Nathan Fabian, Chief Responsible Investment Officer, PRI
Frances Way, Chief Strategy Officer, CDP

09:55
How is corporate climate risk information being used by the finance sector?

This session brings together speakers from the financial and corporate sectors to discuss how this new information is being used in financing and investment decision-making. Speakers will share their experiences on TCFD best practices, including governing and managing climate related risks in the non-financial sectors.

Speakers:

Rick Stathers, Senior ESG Analyst, Aviva Investors
Rebecca Self, Chief Financial Officer – Sustainable Finance, HSBC
Moderator: Ed Baker, Senior Policy Advisor, PRI

10:30
Climate scenario session – energy transition risks and opportunities

2 Degrees Investing Initiative provide an overview on scenarios and a demonstration of their online tool. What are the assumptions baked into scenarios that preparers and users need to know about?
10:45
Networking Break
11:00
Increasing resilience to physical climate risks

TCFD has arguably been more focused on the energy transition than the physical impacts of climate change. Yet, these impacts are no longer subtle and in some markets more of a near term risk than arguably was previously assumed.

Speakers:

Carel Cronenberg, Associate Director – MRV Manager, EBRD
Yves Lemay, Managing Director, Moody's Investors Service
Liz Parkes, Deputy Director, Climate Change and Business Services, Environment Agency
Moderator: Carlos Sanchez, Director, Climate Resilience, Willis Towers Watson

11:30
Approach to data collection

Understanding how data is being sourced, shared and enhanced for use by financial sector actors in their decision-making.

Speakers:

Tony Rooke, Global Technical Director, CDP
Dr Ben Caldecott, Director, Oxford Sustainable Finance Programme

12:00
Regulatory outlook: is there a case for investors & companies to act on TCFD recommendations?

Speakers:

Dave Cooke, Lawyer, Climate Finance, ClientEarth
Nadine Robinson, Technical Director, CDSB

12:30
Preparers Panel: Getting started on TCFD

Hear from preparers on examples of how to get started on TCFD, including examples of working with investors to understand what they need, establishing internal process, assigning responsibility, publishing a climate policy, drawing up an implementation & monitoring plan as well as reporting.

Speakers:


James Wilde, Group Head of Sustainability, Lloyds Bank
Hilde Røed, Vice President Sustainability, Equinor ASA

Caroline Hill, Head of Sustainability and Public Affairs, Landsec
Moderator: Nadine Robinson, Technical Director, CDSB

13:15
Networking Lunch
14:00
Knowledge resources to support you on your TCFD journey
CDSB presents the TCFD hub.

Gemma Clements, Project Manager, CDSB
14:15
Breakout sessions on TCFD implementation preparers

These sessions will provide an opportunity for participants to share learnings on TCFD implementation in facilitated roundtable discussions. A variety of topics will be offered including:



Getting started on scenario analysis
Assessing the financial impacts of climate-related risks and opportunities
Risk vs strategy
Target-setting and science-based targets

15:45
IPCC's new report, changes to the carbon budget implications for TCFD
16:15
Close
The PRI would like to thank The City of London for hosting this event.
Venue
Guildhall, Gresham Street, London EC2V 7HH, UK
Organiser
The PRI in partnership with The City of London and CDP