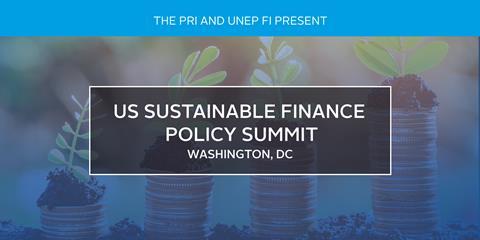 Date: Thursday, October 17, 2019
Time: 2pm-5pm
Location: Newseum, 555 Pennsylvania Ave NW, Washington DC
The PRI and UNEP FI are organising a sustainable finance policy summit focused on responsible investment policy in the US and around the world.
Research by the PRI finds that across the world's 50-largest economies, there are now 730 hard and soft-law policy revisions, across some 500 policy instruments that require or encourage ESG integration across the intermediation chain – half of which were introduced in the last three years. Progress on sustainable finance policy reforms has taken hold in most markets - including the EU, UK, Canada and China.
This summit will bring together senior policymakers, regulatory affairs professionals and investment professionals to participate in a discussion on global sustainable finance policy reform.
Speakers include:
Hiro Mizuno, Chief Investment Officer, GPIF
Mario Nava, Director, European Commission
Scott Mather, Chief Investment Officer, PIMCO
Sharon Hendricks, Chair of the Board, CalSTRS
Timothy Wilkins, Global Partner for Client Sustainability, Freshfields
Senator Brian Schatz, D-Hawaii (invited)
If you have any questions, please contact events@unpri.org.
Registration for this event is now closed.
Venue
Newseum, Washington, DC