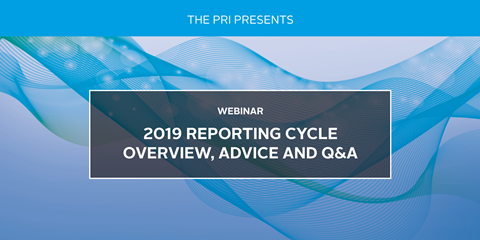 Date: 5 February 2019
Time: 4pm GMT / 11am ET / 8am PT
Join the PRI to learn more about the 2019 reporting cycle and how to get started.
Targeted toward both previous and first-time reporters, the webinar will:
provide an overview of the changes in the 2019 reporting framework,
give you practical advice on how you can save time when reporting,
hear from signatories who will share their own experiences,
and answer your reporting-related questions.
To make the most of this session, we encourage you to log into the Reporting Tool in advance to familiarise yourself with the platform.
For those who are unable to join us on this date, please subscribe to our YouTube channel where a recording will be published after the webinar. You can also find useful links to materials below.
The 2019 Reporting cycle will be open between 7 January and 1 April 2019. To access the 2019 Framework documents, click here, and for an quick guide to the reporting tool and its smart functions, follow this link.
To get started, log in to the Reporting Tool below.

If you have any questions, please contact reporting@unpri.org.