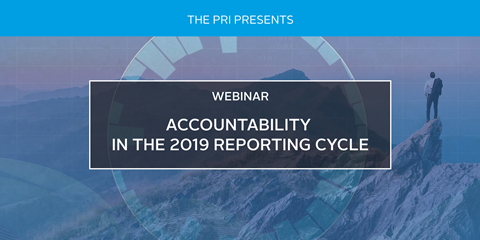 Date: 7 March 2019
Time: 8am GMT / 9am CET / 4pm AWST / 5pm JST
Increasing accountability of the PRI as an organisation is one of the focus areas of our 10-year Blueprint for responsible investment. In 2018 the PRI implemented minimum requirements alongside introducing programmes for showcasing leadership (click here for further background).
Join the PRI on Thursday, 7 March to learn about the minimum requirements that apply to all mandatory reporters in 2019.
Ahead of the reporting deadline on 1 April 2019, this webinar will;
provide guidance on what the minimum requirements are for all mandatory reporters,
explain the next steps for those who do not meet these requirements
highlight PRI resources available to help you,
guide you through the Reporting Tool,
and answer any reporting-related questions you might have.
For those who are unable to join us on this date, we ecourage you to subscribe to our YouTube channel where a recording will be published after the webinar. You can also find useful links to get started below.
The 2019 Reporting cycle will be open between 7 January and 1 April 2019. To access the 2019 Framework documents, click here, and for an quick guide to the reporting tool and its smart functions, follow this link.
To get started, log in to the Reporting Tool below.
If you have any questions, please contact reporting@unpri.org.