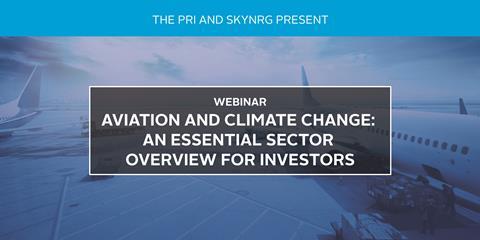 Date: Tuesday, 31 March 2020
Time: 4:00PM GMT
The PRI, in partnership with SkyNRG, invites investors to attend this webinar focused on climate change and the aviation sector. The webinar is intended to strengthen investor knowledge about current climate policies and decarbonisation solutions in the sector, as well as enhance investor engagements on these topics with airlines and aerospace companies.

Preliminary Agenda:
1. Overview of the aviation sector, how the Paris Agreement applies to aviation, and an introduction of CORSIA and ATAG climate targets.
2. Insights into potential areas to reduce emissions from aviation:
Potential emissions reductions from known technologies, operations and infrastructure modifications.
Potential emissions reductions from new technologies, including sustainable fuels and electric aircraft.
Challenges and opportunities of electric aircraft and sustainable fuels.
3. Next steps for the sector


About SkyNRG:
SkyNRG is a global market leader for sustainable aviation fuel (SAF) solutions. Having supplied over 30 airlines on all continents, it is their mission to make SAF the new global standard.
All interested investors are welcome to register. The presentation slides and a recording of the webinar will be made available afterwards for those who cannot attend.