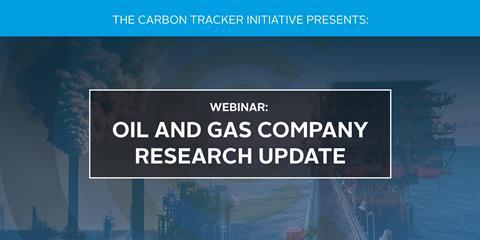 Date: Monday, 20 January 2020
Time: 4:00PM GMT / 8:00 AM PST / 11:00 AM EST / 5:00 PM CET
In this webinar, representatives from Carbon Tracker Initiative will cover the high-level findings, research methodologies, and company implications from their two most recent thematic papers on oil and gas: Breaking the Habit and Balancing the Budget.
In addition, they will provide an overview of their 2019 oil and gas company profiles, including explanations of new indicators and format. Note that these profiles cover all Climate Action 100+ focus companies in the sector. All investors interested in the oil and gas sector are welcome to attend.
Please register in order to attend the webinar. Once you register, you will receive the login details via email. A recording of the webinar will be made available afterwards for those who cannot attend.