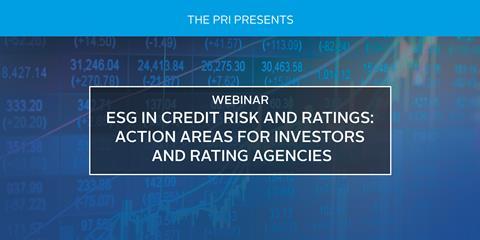 Date: Wednesday, 22 May 2019
Time: 9am BST or 4pm BST
Join the PRI for a webinar on 22 May to hear about the findings of our new report, Shifting perceptions: ESG, credit risk and ratings - part 3: from disconnects to action areas. The event will also be an opportunity to take stock of the progress of the PRI's ESG in Credit Risk and Ratings Initiative. Launched in 2016, the project has grown from strength to strength, and is now supported by over 150 investors with US$30 trillion of assets under management, and 18 credit rating agencies (CRAs).
The webinar will feature participants who are actively engaged in the initiative, including Fitch Ratings and RAM Ratings on the CRA side, as well as AXA, HSBC Global Asset Management, Legal & General Investment Management Ltd and Nomura Asset Management.
There will be two sessions with different speakers:
Webinar 1
Register below for the morning session at 9am BST
Webinar 2
Register below for the afternoon session at 4pm BST