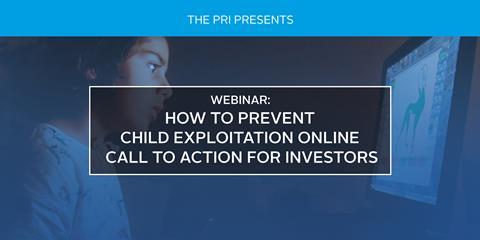 Date: Wednesday 3rd April 2019
Time: 15:00 GMT | 16:00 CET | 10:00 EST


The PRI invites you to join a webinar to explore the issue of child sexual exploitation online and how investors can engage with ICT companies on this issue.
It will also be an opportunity to discuss issues related to the governance of ICT companies and their role in protecting users, of which children are the most vulnerable.
Speakers will discuss how children's exploitation happens both online and through various ICT technologies, concerning trends in child exploitation online, the role that investors can play in engaging ICT companies on this issue and the tools to do so, like the Tech Expectations Guide due in 2019. We will also hear from a corporate representative on the steps that companies can take to tackle this issue and the challenges along the way.
Speakers:
Jacqueline Beauchere, Chief Online Safety Officer, Microsoft
Anjan Bose, Child Protection Specialist, Violence Prevention and Online Protection, UNICEF
Danielle Essink, Senior Engagement Specialist, Robeco
Tracey Rembert, Director, Catholic Responsible Investing, CBIS
Moderator: PRI