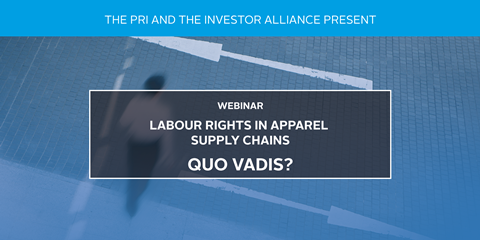 Date: Tuesday, 29 January
Time: 9am EST / 2pm GMT / 3pm CET

The PRI and the Investor Alliance will co-host this webinar to discuss the results from two recent benchmarks published by The Corporate Human Rights Benchmark and KnowTheChain.
Both organisations will share the results of their assessment of policies and practices of over 50 global companies, focusing particularly on the apparel sector, and how investors can use the results from both benchmarks as a tool to assess companies in their portfolios.
Attendees will also hear from Adidas, as they present practical examples of how to ensure labour rights protection in challenging contexts and lower tiers of their supply chains.
The panel will discuss challenges and good practice examples regarding the protection of vulnerable groups such as migrant workers and women, and regarding the provision of effective remedy, including the role of supply chain transparency, grievance mechanisms, and suppliers and buyers in providing remedy.
Speakers include:
Felicitas Webber, KnowTheChain Project Lead, Business & Human Rights Resource Centre
Anna Pot, Manager Responsible Investments, APG
Bill Williamson, Vice President, Social & Environmental Affairs Asia Pacific, Adidas
If you have any questions, please contact elena.espinoza@unpri.org.