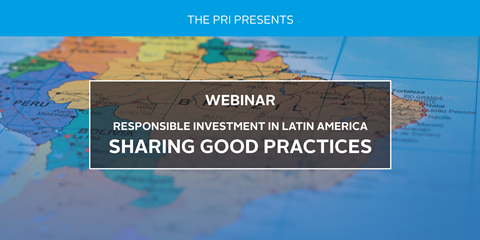 Date: Thursday, 14 March
Time: 11:00 - 12:00 ET
The PRI will host a series of webinars that aim to highlight best practice in Responsible Investment in order to educate, inspire, and, ultimately, raise standards across the Latin America signatory base.
For the first webinar of 2019, we will have as guests:
Maria Clara Rendon– Responsible Investing Senior Analyst in OPTrust. Maria Clara will share her experience in driving change and promoting sustainability by incorporating ESG criteria to investing decisions and methodologies and delivering solutions that contribute to a sustainable and prosperous future for all.
Erik M Nielsen– ESG Analyst HIP Investor: Erik will present his findings of a study related to the lack of ESG information about Latin American companies and how investors can operate in that scenario.