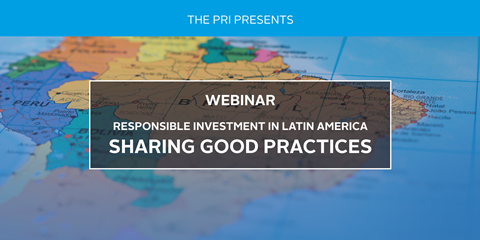 Date: Thursday, 15 August
Time: 11:00 - 12:00 Colombian time
The PRI will host a series of webinars that aim to highlight best practice in Responsible Investment in order to educate, inspire, and, ultimately, raise standards across the Latin America signatory base.
Spakers include:
Cristina Espinosa - a senior investment associate at Acumen Latam Capital Partners (ALCP). She is responsible for the origination, structuring and administration of investments with a particular focus on Colombia.

Beatriz Ocampo - a leader in the areas of technology, auditing, security and has managed strategic projects in the organization. Since 2012, she has been the Sustainability Manager for Colombian operations, where she has help to develop the sustainable business strategies, climate change, eco-efficiency, the responsible investment practices and innovation projects like the first green bond issue in Colombia.
To register for this webinar, please click on the link above and log into your BrightTALK account or join for free here.
Once logged in, you will receive a confirmation email to confirm your registration and to add it to your calendar.