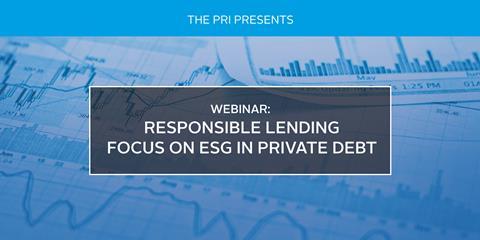 Date: Thursday 14 February 2019
Time: 7.00am PDT / 10.00am EST / 3.00pm GMT / 4.00pm CET

The key concepts of responsible investment are complimentary to private debt with its core focus on analysing and managing risk through relationships with investee entities. The PRI observed significant responsible investment activity among private debt managers and a desire to further develop idea of best practice in the industry. Active management of ESG risks throughout the deal cycle, from due diligence, risk monitoring to value capture on exit, is carried out by investors with greater sophistication than ever before.
Confirmed speakers include:
Archie Beeching, Head of Private Markets, PRI
Christopher Cox, Senior Managing Director & Chief Risk Officer, Churchill AM
Marc Guyot, Head of ESG, LBO France
Richard Sherry, Director of Alternative Credit, M&G
Diandra Soobiah, Head of Responsible Investment, NEST
Join the PRI for an interactive webinar to explore these issues from the practitioner perspective. The webinar will also feature the PRI report "Spotlight on ESG in private debt".