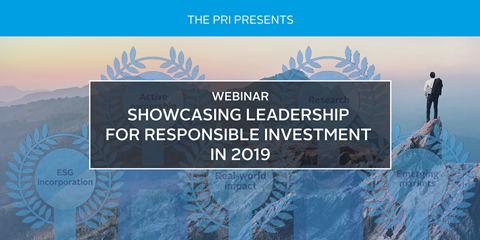 Date: 26 February 2019
Time: 4pm GMT / 3pm CET / 11am ET / 8am PT
In 2019, the PRI will be showcasing leadership by our signatories through two new initiatives: a Leaders' Group and the PRI Awards.
These new initiatives will put the spotlight on good practice to educate, inspire, and, ultimately, raise standards across the whole signatory base.
Join the PRI on Tuesday, 26 February to learn about both of the Showcasing Leadership initiatives and how you can get involved. For more information, please visit unpri.org/leadership or email leadership@unpri.org.

If you are unable to join us on this date, you can subscribe to our YouTube channel here where a recording of the webinare will be shared.