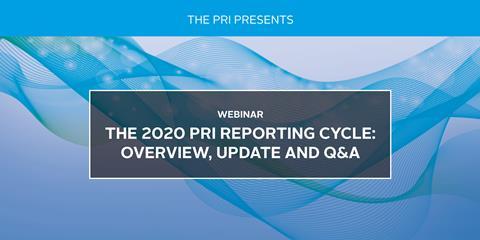 Date: Tuesday, 4 February 2020
Time: 16:00pm GMT
If you are a mandatory reporter responding to the PRI Reporting Framework in 2020, join our reporting cycle overview, update and Q&A session. This webinar is also a learning opportunity for signatories responding to the framework during their voluntary reporting period.
The 2020 PRI reporting cycle starts on 6 January and ends on 31 March 2020. This webinar will be applicable to asset owner, investment manager and service provider signatories.
We will take you through what you need to know in order to prepare for the 2020 reporting cycle, including:
A brief introduction to reporting
How to access the reporting tool
The changes made to the Reporting Framework for the 2020 reporting cycle
A brief update on the Reporting Framework review
The resources available for reporting
A Q&A session
Presenter:
Danielle Watkins, Analyst, Reporting & Assessment, PRI