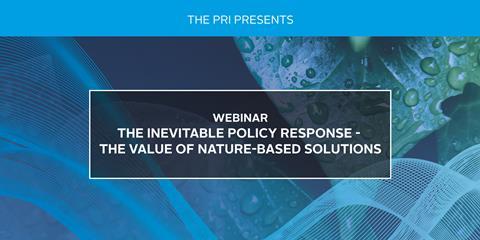 Date: Thursday, 11 June 2020
Time: 3:00pm BST
PRI and Vivid Economics present the latest outputs from the pioneering project the Inevitable Policy Response – focussing on the value of nature-based solutions and the opportunities for global investors.
An inevitable policy response to climate change will increase the breadth and ambition of forest policy, with enormous growth potential for nature-based solutions.
This large-scale climate forestry effort will involve massive increases in finance, ramped up rapidly across multiple regions.
Forest-based carbon stocks can generate nearly US$7.7 trillion in net present value through to 2050, increasingly relying on private sector financing mechanisms delivered through novel business models.
Investors will need to move early and support market development over the near-term in order to position themselves to take advantage of large medium and long term opportunities.
Speakers include:
Thomas Kansy, Director, Vivid Economics
Jeanett Bergan, Head of Responsible Investment, KLP Asset Management
Gemma James, Head of Environmental Issues, PRI
Moderated by: Sagarika Chatterjee, Director of Climate Change, PRI