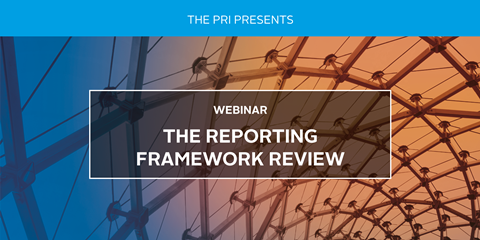 Date: Wednesday, 29 May 2019
Time: 9-10am BST / 4-5pm CST / 5-6pm KST
Following the Reporting Framework consultation survey, we have organised interactive workshops and webinars to discuss the survey results and the future of reporting.
As part of our 3-year strategy, the purpose of the review is to ensure that the PRI's reporting framework:
is fit for purpose
remains relevant to evolving responsible investment practices, and
is useful for signatories and the responsible investment market as a whole
Join us for a webinar on 29 May where we will summarise the discussions from the survey and capture additional feedback and suggestions through polls and other methods.
For more information or questions, please email us or call the Reporting & Assessment team via reporting@unpri.org or +44 (0) 2037143187.
Please register for the webinar below: